Support for Merkel's center-right Christian Democratic Union (CDU) has dropped 1 percentage point to 37 percent, its lowest since November, Forsa polling agency reported Wednesday. The right-wing Alternative for Germany (AfD) has gained 1 point at 10 percent, the first time is has gained double figures in a Forsa survey.
"After New Year's Eve in Cologne and the attack on German holidaymakers in Istanbul, many citizens are thinking not only about the refugee crisis but also fighting terror and criminality," Forsa chief Manfred Guellner said.
However, poll results show Merkel is far more popular than her vice chancellor, Social Democrat Sigmar Gabriel, who was up 1 point at 16 percent.
Forsa's poll also showed 55 percent of Germans favored a move to close off the border and restrict the influx of migrants, many of whom have left war and poverty in the Middle East and Africa.
Confronting party critics
But, it is not just the German public's feathers which have been ruffled.
Merkel is under increasing pressure from some members of her own conservative party and its Bavarian sister party, the Christian Social Union (CSU), who are calling for her to change her open-door refugee policy and shut Germany's borders. Bavaria is the main entry point for asylum seekers traveling from eastern Europe.
The chancellor is to attempt Wednesday to suppress the growing upheaval in her ruling coalition over her handling of the refugee crisis when she confronts critics at a CSU party conference in the Bavarian Alps.
It will be the second time in two weeks that Merkel has addressed members, which have headed opposition to her stance on asylum seekers.
Members of the CSU have called on Merkel to restrict the number of new refugee arrivals this year to 200,000. But with the chancellor strongly opposed to limiting the amount of people able to seek asylum in Germany, tensions remain high.
"We want a solution with you," CSU chief and Bavarian Premier Horst Seehofer said ahead of Merkel's visit to the Bavarian winter resort town of Wildbad Kreuth.
Forty-four members of the CDU-CSU's combined 310-member bloc presented Merkel with a letter on Tuesday warning her that the country's resources had been stretched to the limit by the influx of refugees.
Heated debate
The migration debate in Germany has become heated as opposing sides question whether or not there might be a link between the New Year's Eve attacks on women across several German cities and the increasing number of asylum seekers in the country.
Police in Germany are investigating around 1,000 complaints of sexual assault, theft and harassment following attacks on women in the western state of North-Rhine Westphalia, according to a report issued by the state ministry on Wednesday.
The attacks occurred in Cologne, Dusseldorf, Dortmund and Bielefeld, the report, which is to be submitted to the regional assembly in Dusseldorf on Wednesday, said.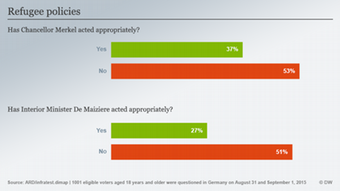 The report puts the number of recorded victims at 1,216. Police have so far identified 52 suspects, most of whom are from ethnic minority backgrounds.
Germany's next federal election is due in 2017, but three regional elections are scheduled to take place in March when Merkel's popularity will be tested.
jlw/kms (dpa, Reuters)