Germany has seen the biggest influx of refugees since World War Two, with over 1 million people arriving in the country in 2015 - the majority of them fleeing war and poverty in Syria, Afghanistan and Iraq.
Citing Interior Ministry deportation statistics, the German daily "Sächsische Zeitung" reported Wednesday that Germany's 16 states deported 20,888 foreigners, compared to 10,884 in 2014.
Most deportations, the Interior Ministry said, took place in North Rhine-Westphalia with 4,395, following by Bavaria (4,195), Hesse (2,651) and Baden-Württemberg (2,431).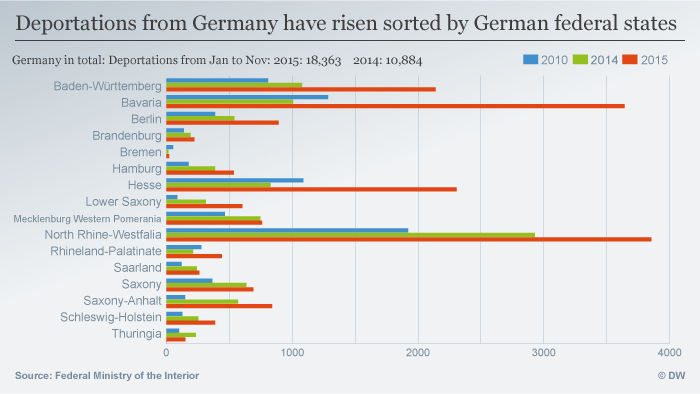 Voluntarily departure
Some 37,200 migrants voluntarily left Germany after receiving financial assistance from the federal states, which are responsible for deportations, the Ministry added. Nearly 90 percent of those came from Albania, Kosovo, Serbia and other Western Balkan countries, it said.
The number of requests for asylum more than doubled in 2015 to around 477,000. That figure is expected to rise this year as authorities process applications for some 1.1 million migrants who registered for asylum last year.
Forced deportation of violent offenders
Justice Minister Heiko Maas and Interior Minister Thomas de Maiziere have made public plans to accelerate the forced repatriation of foreigners who are found guilty of committing physical and sexual assaults, resisting police or damaging property - crimes which carry probationary sentences but under the current law do not lead to expulsion from Germany.
In addition, Chancellor Angela Merkel's coalition partners agreed on Monday that Algeria, Tunisia and Morocco should be designated safe countries, reducing their citizens' chances of being granted asylum in Germany.
jlw/sms (Reuters, AFP, epd)