South Koreans are taking Tuesday's presidential election seriously. Estimates suggest that the voter turnout is likely to be as high as over 90 percent. Over 11 million people - or more than 26 percent of the nation's 42.5 million registered voters - have already cast their ballots in early voting, according to local media.
This year is the first time early voting has been available in a presidential election. South Koreans are voting for a replacement for former President Park Geun-hye, who was recently ousted from office on account of a high-profile corruption scandal. Park was subsequently charged with bribery, coercion, abuse of power and leaking state secrets.
Read: Can Park's potential successor mend ties with North Korea?
The scandal drew South Koreans' attention to the nation's politics. For months, massive protests were staged calling on Park to quit her post. South Korea's democracy - only 30 years old - may be relatively young, but it has developed an energetic protest culture and a largely politicized population.
The hot favorite
Given the scam, it's hardly surprising that the opposition party's Moon Jae-in has emerged as the frontrunner to win the election.
Moon, a former human rights lawyer and aide to late liberal President Roh Moo-hyun, was the Democratic Party candidate in the last presidential election in 2012 and lost to Park Geun-hye. This time round, the 64-year-old seems to embody the long-awaited change.Read: Fake News in South Korea
"If the polls are not entirely off the mark, Moon is on course to emerge victorious in the election," says Steven Denney, an expert on Asian politics at the University of Toronto.
Opinion polls give Moon a clear lead and he is projected to secure about 40 percent of the votes.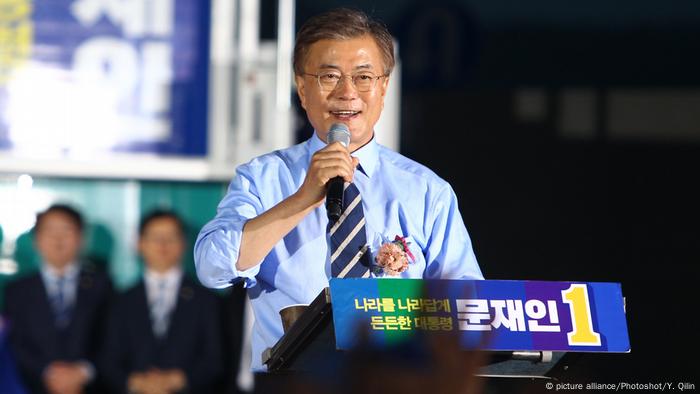 Opinion polls give Moon Jae-in a clear lead and he is projected to secure about 40 percent of the votes
'North Korea sympathizer'
His conservative opponents have attempted to label him as a North Korea sympathizer. The accusation has been regarded by his supporters, particularly by younger voters, as a ploy to defame him.
But the fact remains that Moon wants to reorient Seoul's policy toward North Korea and move away from the measures adopted by previous governments.
Moon's approach toward North Korea is widely perceived to have been influenced by his time serving in the South Korean government in the early 2000s, when Seoul pursued the so-called "Sunshine" policy. It facilitated increased economic cooperation between the two Koreas, for instance by setting up the joint special economic zone in Kaesong, as well as political talks without any preconditions.
Read: South Korea's electin to upend business as usual?
Moon, too, now wants to pursue three core objectives: organizing an inter-Korean summit with Kim Jong Un; reopening of the Kaesong industrial park; and restarting tours to Mount Kumgang in the North.
Both projects could generate millions of dollars in foreign exchange for the reclusive regime in Pyongyang each year. And they could go against the spirit of UN sanctions to prevent money from going into North Korea's banned weapons programs, observers say.
Divergence
"Moon believes Seoul should pursue an independent North Korean policy and assume a leading position to establish peace and stability on the Korean Peninsula," analyst Denney told DW. "This may lead to tensions with Washington."
Just this week, US Secretary of State Rex Tillerson called on the international community to curb diplomatic and trade relations with North Korea as far as possible.
Another issue that could raise tensions between Seoul and Washington in the event of Moon's victory relates to the deployment of the US' THAAD missile defense system on South Korean soil. Moon has said he would review the placing of the system in South Korea, a move that if implemented could irk the US administration led by President Donald Trump.
Polls show that over a half of South Koreans reject THAAD's deployment, fearing that it imperils relations with China and leads to a deterioration of the regional security situation.
On the domestic arena, Moon promises – like all other candidates – to focus on eradicating corrupt links between the political and business classes as well as put in place policies to boost job creation. He also wants less income inequality.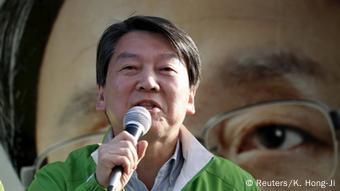 Ahn Cheol-soo is closer to the center than Moon, and has been getting support from some conservatives
Moon, along with other candidates, has tried to tap into the discontent over economic injustice, high youth unemployment and increased inequality between those with full-time jobs and those who are underemployed or looking for work. Moon wants to create over 800,000 jobs by massively expanding the public sector. In addition, he intends to increase the number of jobs by reducing weekly working hours.
Weaker opponents
Moon's dominance can be attributed to the division plaguing the incumbent conservative camp.
The most promising candidate on their side, Hong Joon-pyo, has made domestic security and a strict North Korea policy the core issues of his campaign. Hong, a firebrand prosecutor-turned-politician, has been compared to Donald Trump for his outspoken rhetoric and sexist remarks.
His statements have turned younger voters away from the conservatives. Another controversy surrounding the candidate relates to his own autobiographical confession of complicity in an attempted date rape during his student days.
Another liberal candidate contesting the elections is Ahn Cheol-soo. 55-year-old Ahn, a former doctor and computer software mogul, is closer to the center than Moon, and has been getting support from some conservatives disappointed by Park but who detest Moon. Economically he wants to pursue a liberal course of action.
Ahn has also promised to hand out monthly subsidies of around 500,000 won ($440) to young employees at small- and medium-sized companies in an effort to match the wages of larger firms. On the issue of security, he wants to reaffirm South Korea's alliance with the US.
Regardless of their political affiliations, both civilians as well as government officials are striving to ensure free and fair elections. The country's election commission has set up a cybersecurity unit to monitor the internet and promptly notify any false reports about candidates appearing on social media.
On the streets, many senior citizens are paying attention to make sure that no one damages election posters.
Democracy is a precious commodity in South Korea, something that was hard-won following decades of military dictatorship.