The US military has begun deploying parts of the controversial Terminal High-Altitude Area Defense (THAAD) missile systemin South Korea.
On Wednesday, six trailers carrying parts of the THAAD system arrived at a former golf course in the county of Seongju in the country's southern region, Yonhap news agency and YTN television reported.
Television footage showed military trailers carrying equipment, including what appeared to be launch canisters, being driven into the planned THAAD battery site, about 250 kilometers (155 miles) south of Seoul.
Admiral Harry Harris, the top US commander in the Asia-Pacific region, told Congress on Wednesday that he expected the missile defense system to be operational within the coming days. Earlier, South Korea's Defense Ministry confirmed the start of the full-scale deployment, saying it hoped to secure "operational capability of the THAAD as soon as possible," with a goal of fully installing the batteries by the end of this year.
"South Korea and the United States have been working to secure an early operational capability of the THAAD system in response to North Korea's advancing nuclear and missile threat," the South's Defense Ministry said in a statement.
Local journalists posted images of the trucks online.
The arrival sparked clashes between locals and police, Yonhap reported. Around 2,000 people rallied with banners reading: "No THAAD but peace," while riot police were mobilized to maintain order and stop protesters reaching the installation site.
The US and South Korea are deploying the missile system in response to the ongoing development of North Korea's ballistic missile program, which has continued despite multiple sets of United Nations sanctions.
The system is intended to intercept and destroy short and medium-range ballistic missiles during their final phase of flight.
Harris also said that the US military was weighing whether to install new missile interceptors on Hawaii, which would be one of the first US targets to be in range of a North Korea missile attack.
China 'strongly opposed' to deployment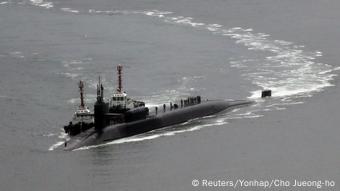 The USS Michigan arrived at a naval base in Busan, South Korea on Tuesday
Washington and Seoul agreed to an early rollout of the THAAD system after talks earlier this month between the South's acting president and visiting US Vice President Mike Pence.
China said it was strongly opposed to the deployment, sanctioning South Korean firms in response. It called for calm on the Korean peninsula amid the deployment of a US carrier group to the region.
"[China] hopes that all relevant sides exercise restraint, and avoid doing anything to worsen the tense situation on the peninsula," Chinese President Xi Jinping was paraphrased as saying in a statement from the Chinese Foreign Ministry.
China said THAAD would do little to dissuade North Korea but would destabilize the regional security balance while its powerful radar could penetrate China's territory and undermine its security.
International concerns were heightened in recent weeks with fears the North could soon carry out another nuclear test or missile launch, in defiance of United Nations sanctions. North Korea announced on Wednesday that it had conducted its "largest-ever" live-fire drill to mark the 85th founding anniversary of its military, with more than 300 large-caliber, self-propelled artillery guns demonstrating their firepower at an event on its east coast.
On Wednesday, US President Donald Trump is scheduled to discuss North Korea in Washington with Secretary of State Rex Tillerson and Defense Secretary James Mattis.