David O'Reilly produces wine in Washington state's Yakima Valley. Originally from Ireland, he has come to know the land here intimately, planting each grape species in the soil type and microclimate that suits it best — whether that's the cool north side of a hill or the dry rocky earth where his Syrah, Grenache and Mourvedre vines thrive.
These subtly different environments contribute to a wine's unique flavor. But now, O'Reilly has to contend with with impacts of global warming on the taste, too. Last summer, wildfires swept down the western United States, forcing entire communities to evacuate, burning homes and scorching the land.
Ring of fire
In July 2017, an errant firework landed on a dry, grassy hillside close to O'Reilly's vineyards, starting a fire that spread across the arid landscape.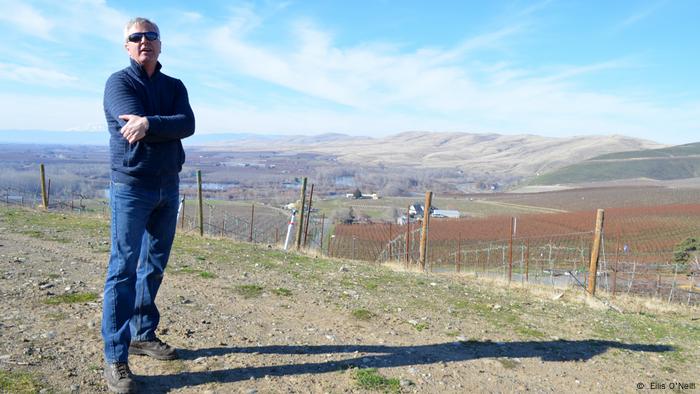 David O'Reilly has been growing grapes on his Yalta Valley land for the last 15 years
"It looked like this long glowing snake going up the hill," O'Reilly recalls. "There's no light pollution out here in the country, so that's all you saw. You just slowly watched it creeping across the hill."
Flames soon encircled O'Reilly's land. Firefighters worked through the night to keep them from reaching his hilltop house, and his neighbors' homes. But several rows of grapevines burned to the ground.
And even the grapes that survive such a fire can be ruined if they're contaminated by smoke, changing how the fruit tastes.
It's a problem more and more winemakers around the world could be facing.
The US is the fourth-largest wine-producing country in the world – after France, Italy, and Spain — and more than 90 percent of US wine comes from the fire-prone West Coast.
Wine regions feel the burn
Over recent years wine-producing countries Portugal, Australia and Chile have also been hit by extreme fires. Unfortunately, the conditions grapes thrive in are also perfect to feed a fire.
"Most of the wine-grape-growing regions in the world are all dry regions," says Greg Jones, a wine climatologist at Linfield College, Oregon.
And climate change will only make the problem worse.
Over year after year of very hot summers and dry winters, flammable plant material builds up. "And then all you have to do is have one strike that starts a fire, and then you've got a problem," Jones says. "That's what we saw this past year in many places in the world."
Such experiences have led Australian winemakers to develop various techniques to deal with "smoke taint."
Grape skins, which hold most of the unwanted flavor, are removed as early as possible, and a different fermentation process used. In the most extreme cases, O'Reilly says, vintners use osmosis to try to extract the taint.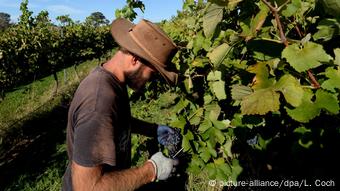 Australian vintners also have ways to deal with smoke taint
When life gives you smoked grapes ...
In 2002, when O'Reilly first bought his land in Yakima Valley, a fire hit right at harvest time. "Smoke inundated the vineyard for well over a week," he says, "so it permeated through the skins of the grape, and I was debating whether or not to even bottle it."
In the end, he turned the situation to his advantage. "I decided to embrace it, and so I put this little strip label on it. I explained the smoky flavors were from the fire, and everyone loved it."
O'Reilly says when it was first bottled, his smoky Shiraz "almost tasted like someone had put a little dab of liquid mesquite in there."
When the fire skirted his vineyards last summer, the grapes were still green and hard and O'Reilly hoped they wouldn't be tainted. But it looks like he might just have to get used to marketing his wine as taste of climate change.
"We were tasting in the cellar," O'Reilly says, "All of a sudden, it's starting to come out — there's a little bit of a smoky note in our wines this year."