Ex-Italian premier Silvio Berlusconi said on Monday that Italians were "not racist" as he promoted his plan to deport over 600,000 migrants.
Berlusconi's comments came after a far-right supporter shot and wounded six migrants in the central town of Macerata, crimes that were fueled by the murder of a local woman, allegedly by an African migrant.
Twin crimes: What we know so far
- On Saturday, a Nigerian man was arrested over the murder of an 18-year-old Macerata resident. Her body had been found dismembered in suitcases.
- The same day, neo-Fascist Luca Traini, 28, wounded five men and one woman from Ghana, Mali and Nigeria in drive-by shootings. He told police the news of the 18-year-old girl's death made him want to "kill them all."
- Traini shouted "Viva Italia" or "Long live Italy" as he carried out his crimes. A raid of his mother's home found right-wing literature, including Adolf Hitler's "Mein Kampf" and works by Benito Mussolini. He is also a member of the far-right Northern League party.
- Interior Minister Marco Minniti has said that Traini was part of a larger xenophobic network, and motivated by "racial hatred."
- Italy has struggled to deal with the great amount of refugees fleeing war, poverty and famine arriving on its shores from northern Africa. About 119,000 people landed in 2017, a 35 percent increase on 2016.
Far-right decries 'invasion of migrants'
"There is very widespread social anxiety stemming from the presence in Italy of huge numbers of irregular migrants," Berlusconi told RAI, calling migration "a real social bomb ready to explode, because these migrants live off expedients and crimes."
Berlusconi also reiterated his plan to deport "at least 630,000 irregulars." He added that Italians were "not racist," but merely wanted to "live and work peacefully."
Matteo Salvini, leader of the Northern League and an ally of Berlusconi's, said that an "invasion of migrants" was to blame for the "social clash."
Prime Minister Paolo Gentiloni of the center-left Democratic Party (PD), promised however that "violence will not divide us."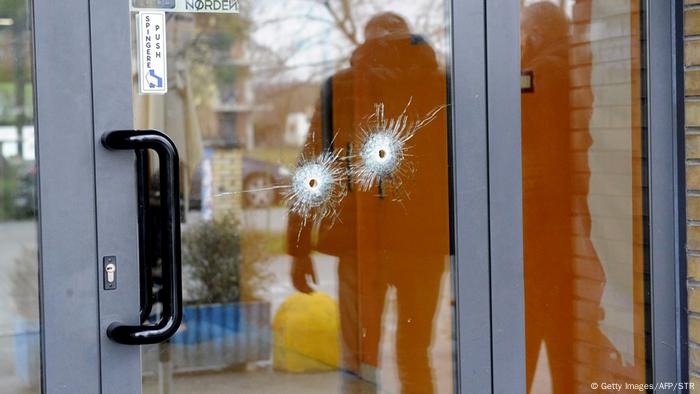 Six people were reported injured in the drive-by shooting
Why Berlusconi still matters: Although he is barred from seeking re-election, the scandal-plagued Berlusconi is still the spiritual head of his Forza Italia party. A bloc of conservative and far-right parties led by Forza Italia is leading the polls ahead of the March 4 general election in Italy.
What happens next: One of Traini's victims was seriously injured in the thorax but is expected to survive. The other five had lesser injuries. Police are investigating charges of attempted murder with aggravating circumstances. Immigration policy is expected to be a key issue in the upcoming election.
es/rt (AFP, dpa)