Italian police have detained a local man on suspicion of wounding six African migrants, one of them critically, during a shooting rampage Saturday.
The suspect is 28-year-old Luca Traini from the town of Macerata — a town with a population of 42,000 located about 200 kilometers (125 miles) northeast of Rome — where the shootings occurred.
Traini, who had no prior criminal record but had extreme right-wing sympathies, reportedly drove around Macerata firing on African immigrants. The gunman also fired shots at the Macerata offices of the ruling center-left Democratic Party, but no one was injured there.
The six shooting victims included five men and one woman from Ghana, Mali and Nigeria, according to Italy's Agi news agency.
Macerata resident Marcello Mancini told the Reuters news agency that the shooter "drove around in his car and when he saw any black people he shot them."
The two-hour shooting spree began at around 11 a.m. local time (10:00 UTC) and prompted the mayor to urge residents to stay indoors. The suspect was detained by police in the early afternoon.
Read more: Italy approves military mission to curb migration in Niger, North Africa
The newspaper, il Resto di Carlino, posted a video online of a man being arrested by armed Carabinieri officers in Macerata's city center. He was arrested with an Italian flag draped over his shoulders after he fled his black Alfa Romeo on foot. Italian news reports said he made a fascist salute as he was arrested, but no salute was visible in a video of his capture.
On Saturday evening, Italian Interior Minister Marco Minniti told reporters in Macerata that Traini had been motivated by "racial hatred" and came from an extreme-right background "with clear reference to fascism and Nazism."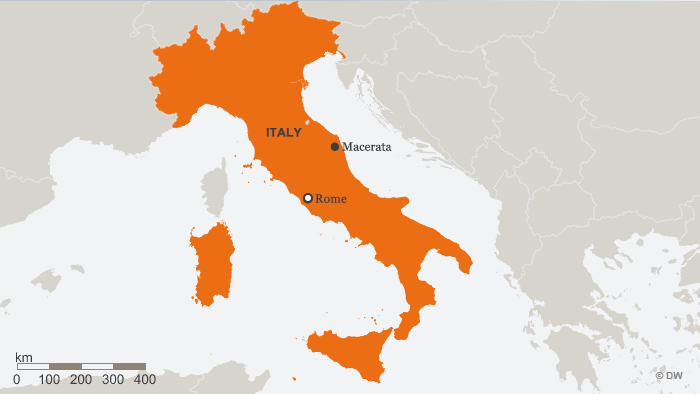 Northern League affiliations
Traini ran as a candidate for the anti-immigrant Northern League in a local election in the city of Corridonia last year, and lost.
The party's leader, Matteo Salvini, scrambled to distance himself from the shooting but blamed mass immigration for the tensions. "I can't wait to get into government to restore security, social justice and serenity to Italy," he told reporters.
Italian Prime Minister Paolo Gentiloni, meanwhile, vowed that the government would come down heavily on anyone promoting violence.
"We will stop this risk. We will stop it immediately. We will stop it together," Gentiloni said. "Hatred and violence will not be able to divide us."
A brutal murder
The shooting comes amid high tensions along racial and ethnic lines in the town where days earlier police detained a 29-year-old Nigerian man identified as Innocent Oseghale. He is suspected of carrying out the gruesome murder of an 18-year-old Italian woman.
The mutilated remains of Pamela Mastropietro were found Wednesday in two suitcases, two days after she left a drug rehabilitation center.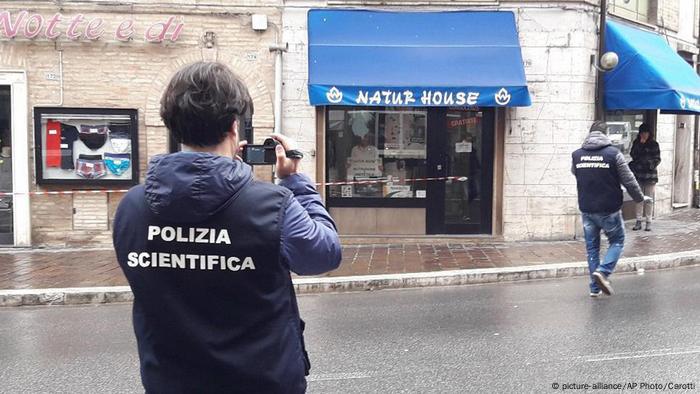 Italian forensic police descended on the site where the shootings began
Mayor Romano Carancini acknowledged that the proximity of today's shootings to the recent murder suggests a link.
"They were all of color, this is obviously a grave fact. As was grave what happened to Pamela," he said. "The closeness of these two events makes you imagine that there is a connection."
Oseghale was denied asylum last year but remained in the country. He has refused to talk to police.
Investigators say witnesses saw Oseghale carrying the suitcases that were later discovered to contain the woman's remains. Police also found bloodstained clothes and knives in his possession.
Right-wing nationalists have seized on the bloody events in Macerata to ramp up their anti-foreigner, anti-immigrant rhetoric ahead of parliamentary elections slated for March 4.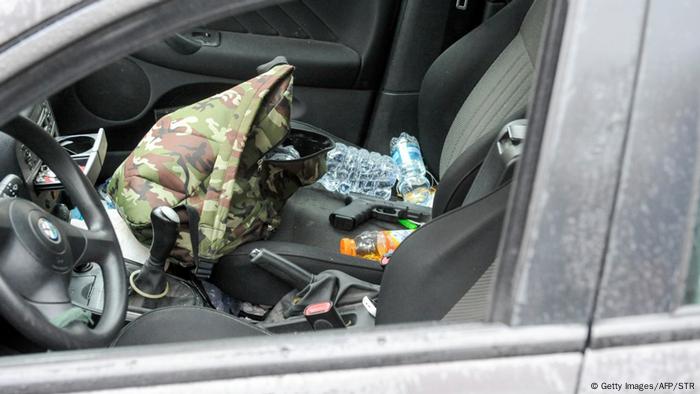 A Glock handgun was found on the passenger seat of the suspect's car
Northern League chief Salvini slammed the center-left government for allowing migrants into the country, and blamed it for Mastropietro's death.
"What was this worm still doing in Italy?" Salvini wrote on Facebook. "The left has blood on its hands."
Salvini has pledged to deport 150,000 migrants during his first year in office, should his party win control of parliament and he take the prime minister's post.
Read more: Italy deals blow to citizenship rights for migrants
Democratic Party leader Matteo Renzi called for calm. "The man who fired the gun, hitting six people of color, is a squalid, mad person. But the state is stronger than him," the former prime minister wrote on Facebook.
dm, bik/cmk (Reuters, AP, AFP, dpa)