Italian President Sergio Mattarella dissolved parliament on Thursday, paving the way for elections slated for March 4, 2018.
Elections must take place by May 2018, but the early dissolution of parliament is a recognition that Prime Minister Paolo Gentiloni's government is crumbling.
Analysts have expressed concerns that the results will give way to a hung parliament and further erode political stability in Europe's fourth-largest economy.
"The base-case for the election outcome is a hung parliament. This means that Italy will likely enter a difficult phase post-vote as forming a governing majority will be complicated, if not impossible," Wolfango Piccoli, a political analyst from Teneo Intelligence, told DPA news agency.
Gentiloni told reporters that Italy should be ready for political instability that the country could manage.
"We mustn't dramatize the risk of instability; we are quite inoculated against it," he said, referring to Italy's history of short-lived governments and tumultuous politics.
Who are the main contenders?
Gentiloni's center-left Democratic Party (PD), led by ex-premier Matteo Renzi, looks set to get pounded in the election.
Public support for the PD has dropped to 23 percent over the course of its five years leading government, during which there have been three PD premiers.
The PD suffered from a split this year after left-wing dissidents angry at Renzi rebelled to form the Free and Equals (LeU) party, which is polling at about 7 percent.
A conservative alliance of former Prime Minister Silvio Berlusconi's Forza Italia, the anti-immigrant Northern League and Brothers of Italy combined stand to get the most votes. They are polling at 16, 13 and 5 percent, respectively.
However, there are questions over whether the conservatives will be able to overcome internal differences, with the 81-year-old Berlusconi and Northern League leader Matteo Salvini both vying for the leadership.
The anti-establishment Five Star Movement (MS5) has a lead with about 28 percent support, according to opinion polls.
But it has ruled out taking part in a coalition government and is unlikely to win a majority. M5S's prime ministerial candidate is 31-year-old Luigi Di Maio.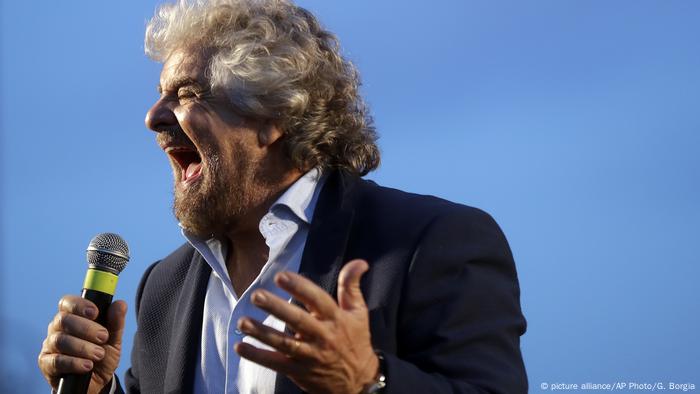 M5S founder Beppe Grillo has slammed the new electoral law, saying it undermines his party's ability to make it into parliament
Read more: Luigi Di Maio: Leading the populists to Rome
Is Italy's Five Star Movement the new blow to the establishment?
The new law
The elections will mark the first of their kind under the new Rosatellum electoral law, which has been decried by M5S because it claims the new law penalizes single parties and encourages coalition governments.
cw, ls/rt (dpa, AFP)