In Italy, the populist Five Star Movement (M5S) is neck-and-neck in the polls with the governing Democratic Party.
Emboldened by the defeat of Matteo Renzi's proposed constitutional reforms in a referendum on 4 December – and the end of his tenure as prime minister – they are keen to capitalize on momentum against the sitting government and calling for early elections.

As with Brexit in the UK, the referendum debate encapsulated many more issues than the reform proposals on the ballot paper. To what extent then does the outcome give a definitive answer as to what Italian voters want?

One clear instruction the result did give has already been carried out. Namely, the resignation of Matteo Renzi, who pledged to stand down as PM if his proposals were rejected and will now be replaced by his foreign minister, Paolo Gentiloni.

But while Renzi's reforms were ostensibly proposed as an attempt to strengthen and stabilize Italian governments (Italy has had 65 of them since 1945) in order to improve Italy's sluggish economy and high youth unemployment rate, many saw it as overly centralizing and a power grab.

Just how many voted simply against the reforms, though are unwilling to go as far as supporting Grillo's party in a general election, will be an important question when Italians go back to the polls.
'Saying 'no' is the most beautiful and glorious form of politics'

While Grillo has argued that saying 'no' in politics is beautiful and suggested that whoever doesn't understand that can 'screw themselves,' on Conflict Zone this week Ignazio Corrao rejected Michel Friedman's suggestion that this was violent language and insulting to voters.

"I think it's more violent to cheat the Italian people, saying that this reform was about reducing the cost of politics or reducing the number of senators while it was about 47 articles," said Corrao.
He defended too Grillo's manner of expression, saying it was important to understand these as "strong words that he used to use when he was a comedian."
Indeed, it has done the growth of his party little harm and arguably been a key part of its success, leading to comparisons with another leader across the Atlantic with distinctive hair and a lack of concern for causing offense.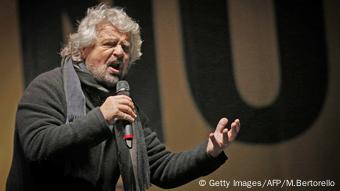 Former comedian Beppe Grillo is the leader of Italy's Five Star Movement
European allies
In 2014, European elections saw 17 MEPs for the Five Star Movement elected to parliament, with the group now led by Corrao. "When we arrived to the European Parliament, we didn't have a family, we didn't have a European group," said Corrao. Five Stars refers to five main concerns of the party: public water, sustainable transport, sustainable development, right to internet access, and environmentalism.
Arguably, a natural parliamentary family on this platform is the Greens-European Free Alliance group, made up of Greens, Pirates, separatists and independents.
The family Five Star joined, however, were the Europe of Freedom and Direct Democracy (EFD2), formed mainly between the right-wing UK Independence Party (UKIP) and Alternative for Germany (AfD).
The EFD2's euroskepticism is also set out in its charter, which says that "the legitimate level for democracy lies with the Nation States, their regions and parliaments since there is no such thing as a single European people" and "the Group opposes further European integration (treaties and policies) that would exacerbate the present democratic deficit and the centralist political structure of the EU."
Has Corrao's Five Star Movement found itself in the wrong group?

"We are not left, not right, we are post-ideology," Corrao told Michel Friedman on Conflict Zone.


Arguing that they do not campaign or take political decisions together, the controversial comments of UKIP and AfD on issues such as immigration were therefore, Corrao said, "not our business." The charter of the EFD2 acknowledges the freedom of members to vote in parliament as they want.
Moving from protest to power
Before the prospect of success in national elections, the Five Star Movement has already made steps towards credibility as a party of governance and not just of protest.
It controls many city mayoralties, most significantly in Rome, where in June this year Virginia Raggi became the first female to be elected to lead the city.
Her term so far, however, has faced significant problems with resignations from key officials and the dismissal of a top aide over a row about excessive pay.
For critics, this has reinforced concerns about the competence of the Five Star Movement to run an administration, while Raggi's defendants point to Rome's problems as being caused by the corruption of past administrations and requiring more than a few months to resolve them.
With this in mind, early elections could help Grillo's party avoid being tarnished with the accusation they have successfully deployed against their "establishment" opponents as being "all the same."