German Chancellor Angel Merkel and new Italian Prime Minister Paolo Gentiloni, speaking at a joint press conference in Berlin on Wednesday afternoon, both expressed confidence in Europe's ability to overcome its challenges.
"We will only earn trust when we solve problems," Merkel said, naming migration, internal security, economic growth and employment as the main difficulties facing Europe. "These are the major tasks that Europe must clearly address," she expanded.
Gentiloni seconded Merkel's priorities but warned "that when we do not take on insecurity and the unemployment problem, it will be hard to carry our fellow citizens alongside us."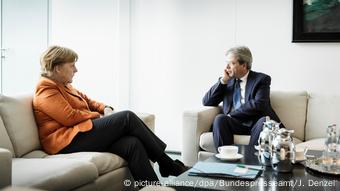 Merkel and Gentiloni share confidence in Europe's future
The two leaders resolved to remain united in the face of Brexit. Merkel stated that she is "not worried that we will not stick together" while Gentiloni said "there will be solidarity among ourselves; there will of course also be friendship toward the United Kingdom." The two countries promised to work together closely as negotiations progress, including on business and industrial issues.
Earlier in the morning, Merkel received Gentiloni with full military honors before the two sat down to a working lunch to discuss European and international political challenges. It was the Italian head of government's first visit to Berlin since taking office on December 12, 2016 after a failed referendum bid forced his predecessor Matteo Renzi to step down.
Merkel offers help after quake
During the press conference, Gentiloni also commented on the three earthquakes that shook central Italy a few hours prior, calling it a "difficult day" for Italy. For her part, Merkel offered aid for reconstruction.
The meeting in Berlin came one day after the European Union Commission called on the Italian government to adopt new structural efforts to lower its public debt. Brussels called on the Mediterranean country to slash 3.4 billion Euro (3.6 billion US dollars) in public finances - approximately 0.2 percent of Italian GDP. This could leave Gentiloni with the unpleasant choice of ignoring an EU directive or facing citizens angered by tax increases and spending cuts.
Rome has stated that 2016 budget shortfalls were due to earthquakes and the migration crisis.
cmb/rc (AP, AFP, dpa)