Italy has decided to ramp up checks on migrants and increase deportations in 2017, national media reported on Saturday. According to several of the country's leading dailies, police chief Franco Gabrielli sent a memorandum to Italian police stations calling on them to be extra vigilant in the new year.
Gabrielli is the director of public safety for a special Italian police unit called the Protezione Civil,which handles security for "exceptional" circumstances. In his directive, he reminds local officers of the importance of making routine checks "in the current crisis considering the increasing pressures of migration in an international context characterized by instability and which require maximum effort…to keep our territory 'under control.'"
The memo further calls on officers to give "maximum momentum" to cases involving irregular foreigners.
It is easy to see why Italy might want to emphasize deportations and local police patrols. Its position in the Mediterranean makes it the first stop for many refugees and migrants, indeed a record half a million arrived on its shores since 2014. But on top of that, it was beat cops in Milan asking for identification that discovered and killed Anis Amri, a rejected asylum seeker who carried out an attack on a Berlin Christmas market that killed 12 people and injured 49. Amri was one of the thousands to first arrive in Europe via Italy after taking a boat from North Africa.
This is to say nothing of the thousands of drowning deaths that have occurred in 2016 as asylum seekers attempt to reach Europe in shoddy rubber dinghies.
The officer's letter echoed sentiments made by Interior Minister Marco Minniti, who recently confirmed plans to build several new detention centers in Italy to facilitate faster deportations for migrants whose asylum applications are denied.
Rejection of Renzi
A stricter attitude towards migration marks the first major policy shift under newly appointed Prime Minister Paolo Gentiloni after having taken over from his Democratic Party (PD) colleague Matteo Renzi, who stepped down in December following a crushing defeat over a referendum to streamline the government.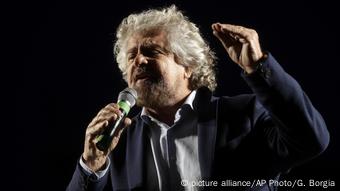 Left-wing populist Beppe Grillo of the Five Star Movement (M5S) has also criticized what he calls the government's lax immigration policy
Leader of the right-wing Lega Nord party, Matteo Salvini, took the news as a victory. "The government changes course on immigrants: increases raids, inspections and repatriations…But I thought everything was under control?" the euroskeptic politician wrote on Facebook. Salvini slammed politicians who called him bigoted for his anti-immigrant stance, asking sarcastically "were the Lega and I not made out to be racists inventing fears? Meanwhile, thanks to the PD in three years another 500,000 have landed here."
Because Renzi objected to detention centers on humanitarian grounds, Italy only has four pre-repatriation camps left operating. These can comfortably house only about 360 people. Reports suggested that the interior ministry will open 16 more in the coming year, which could still handle only a small portion of the migrants estimated to be living in Italy without authorization.