Anis Amri, a Tunisian man suspected of having driven a truck into crowds at a Christmas market in Berlin on Monday, killing 12 people and injuring nearly 50 more, has been shot dead in a shootout with police in Milan, Italian Interior Minister Marco Minniti said on Friday, with Germany's top prosecutor later confirming that Amri had been killed.
Minniti told a press conference in Rome that there was "no doubt" that the dead man was Amri after his fingerprints were clearly identified.
Amri was killed at around 3 a.m. local time (0200 UTC) on Friday. One policeman was injured in the shootout, which occurred when police requested identity papers from a suspicious-looking person.
Instead of producing papers, Amri drew a gun from his backpack and fired at one of two police officers, injuring him, Minniti said. The other police officer then shot Amri dead. No one else was injured.
Minniti said the two police officers had "done an extraordinary service to the community," adding that the wounded police officer was now recovering.
A reward of up to 100,000 euros ($104,000) had been offered for Amri's arrest.
The Italian Ansa news agency said Amri had arrived in Turin in Italy from France, before going on to Milan, where he arrived around 1 a.m. on Friday morning. He was shot dead on the square in front of the train station in Sesto San Giovanni, a de facto suburb of Milan, though it has the honorary title of city.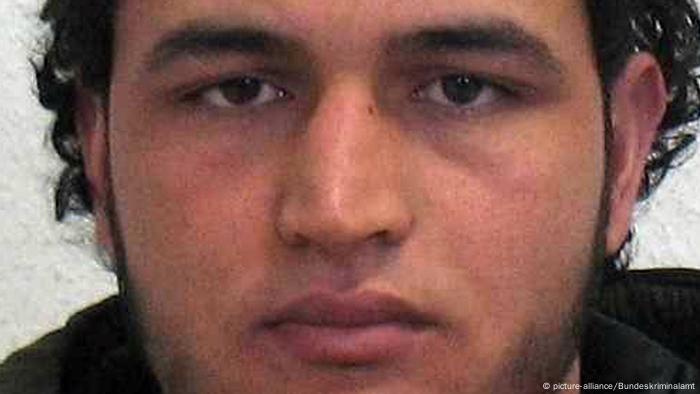 Amri had been monitored by German police
Germany confirms death
German Federal Prosecutor Peter Frank later on Friday confirmed that the person shot dead by Italian police was Amri.
He said that investigations would, however, continue in a bid to identify any people who may have helped Amri prepare the attack or to escape afterwards. The probe would also look into whether the gun Amri had in Milan was the same one used to kill the Polish driver of the truck used in the attack, he said.
At a news conference on Friday afternoon, German Chancellor Angela Merkel thanked the Italian police and authorities for the "extremely close" cooperation in the case, and wished the wounded police officer a good recovery.
She also used the conference to express her condolences to the families of victims of the Berlin attack, particularly mentioning an Italian national who lost her life.
Merkel said that any political or legal changes needed to effectively fight terrorism as highlighted by Amri's case would be quickly agreed and implemented by the German government.
Earlier, German Interior Minister Thomas de Maiziere also hailed the actions of the two Italian police officers, and expressed his relief that Amri no longer posed a danger.
De Maiziere said he would soon be holding talks with Justice Minister Heiko Maas about the conclusions to be drawn from the Berlin Christmas market attack.
He told the news conference that the terror threat in Germany remained high and the authorities remain "vigilant" despite Amri's death.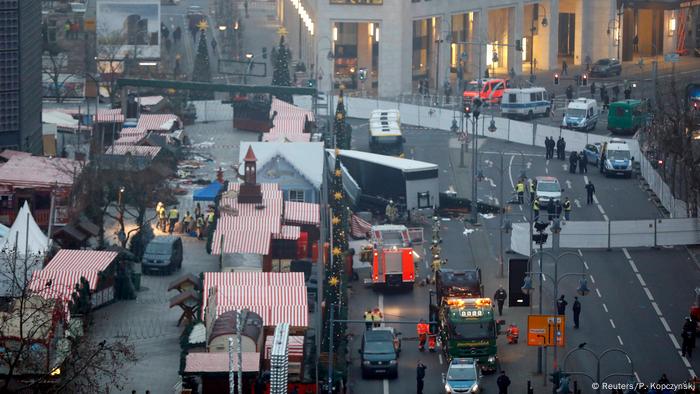 The attack occurred in the middle of Berlin
Damning evidence
German authorities have said they are almost certain that Amri, 24, was behind the Berlin attack after his fingerprints were found inside and outside the truck, along with documents pertaining to his residency status in Germany.
Amri, who came to Europe from Tunisia in 2011, spent four years in prison in Italy, among other things for arson. Local media reported that he was radicalized while behind bars.
He traveled to Germany in 2015 after his release, when he was ordered to leave Italy. He had been under police surveillance in Germany from March to September, as authorities concluded that he was involved only in small-time drug dealing.
They had tried to deport him after his application for asylum was rejected in July. However, they were unable to eject him from Germany because Tunisia initially refused to take him back, as he had no valid identity papers.
So far, four non-German nationals have been identified among the 12 victims of Monday's attack. A spokeswoman for the Federal Prosecutor's Office in Karlsruhe said on Friday that one victim from each of the following countries, the Czech Republic, Italy and Israel had been confirmed, along with the Polish driver whose truck was apparently hijacked.
Some fifty other people were wounded, some very seriously.
The extremist group calling itself "Islamic State" (IS,) which had claimed responsibility for the attack, has also acknowledged Amri's death through its Amaq news agency.
The group has also released a video purportedly showing the Berlin attack suspect in which he vows to take revenge on "crusaders" killing Muslims in Western airstrikes.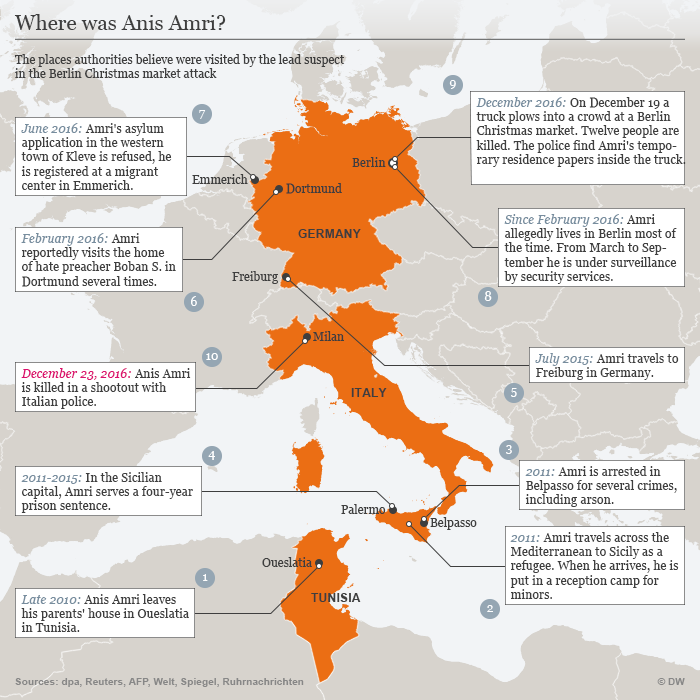 tj/sms (dpa, Reuters, AFP)