Ian Ssali Kiggundu Elly is the kind of young person who would make any parent glow with pride.
The fifth-year law student at Rome's Sapienza University speaks four languages and is articulate with a gentle sense of humor.
And at only 26, he has spent the greater part of the last decade advocating for those younger than him so that they might avoid the ordeal of uncertainty - and core questioning of the right to belong - that he and more than 800,000 young would-be Italians now endure.
"I don't consider myself a 2.0 Italian. I'm an Italian citizen and that's it," says Ssali, in a thick Roman accent.
Yet despite being born and raised in Italy, Ssali had to wait until he was 18 to apply for Italian citizenship, a process which, for those born to non-citizen parents, can take up to six years.
Italy's current law, passed in 1992, grants children born in Italy to non-Italian parents the right to apply for nationality between age 18 and 19, only if they have lived continually in Italy since birth.
Read more: Refugee children: Living in fear
Fading support
Yet a reform set to be voted on in Italy's Senate this summer seemed to finally offer this group new hope in the form of a confidence vote. If passed, it would have granted children of immigrants the right to become citizens before adulthood.
On Sunday, however, the ruling Democratic Party coalition postponed the scheduled vote, which has sparked fierce opposition from members of its own centrist coalition, not to mention the anti-immigrant Lega Nord. As frustration grows in Italy over lack of support from the EU in dealing with the thousands of migrants being rescued and brought to its shores, support for the bill has faded.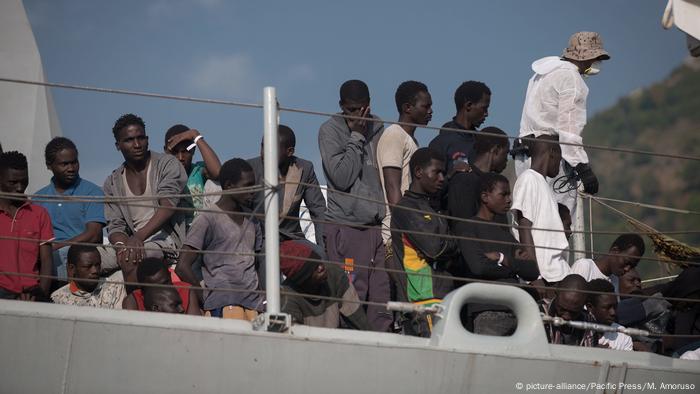 Italy wants more help from the EU in dealing with the ongoing refugee crisis
Read more: EU countries decline to help Italy with Mediterranean refugee crisis
"Given the urgent deadlines in the Senate calendar and the difficulties that have emerged in some parts of the majority," Prime Minister Paolo Gentiloni of the center-left Democratic Party said in a statement, "I don't think the conditions are right to approve the draft law on citizenship for foreign minors born in Italy before the summer break."
Unlike the current law, based on the concept of ius sanguinis - ancestry - the postponed draft law, known as ius soli or law of the soil, would allow young people who have lived and gone to school in Italy for at least five years the right to apply for citizenship.
"Until I was 15, my citizenship was tied to my mother's Ugandan passport. After that I had to apply for a permit of stay. So I had to get fingerprints, which is the procedure for people who came here two or three years ago. Except on my permit of stay my birth date was my date of entry into Italy," Ssali told DW. "It is ridiculous."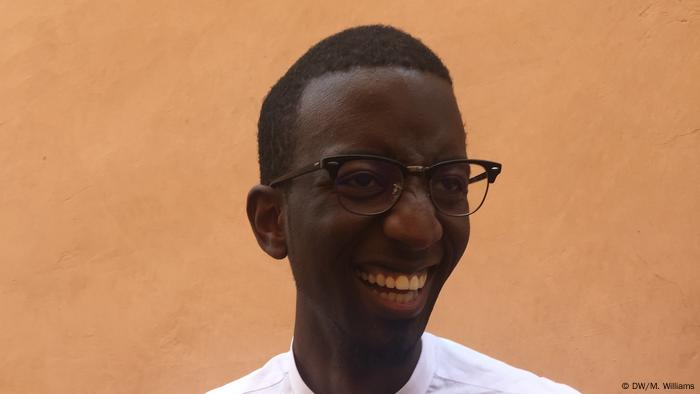 Ssali says Italy's current citizenship laws are anachronistic
Counting the cost
Bureaucratic hassles aside, Italy's current citizenship law has lasting repercussions on young people born to non-citizens or who come to live in Italy as children.
Without Italian or EU citizenship, young people cannot take part in Erasmus exchange programs, are precluded entry into professions such as law and medicine, are barred from public office and cannot take part in the civil service. Needless to say, they cannot exercise the most basic democratic right of voting.
Cultural mediator Mohamed Tailmoun, 46, came to live in Italy when he was five years old. Like Ssali, Tailmoun is part of G2, a network of second-generation Italians who say it's time for Italy to update its concept of citizenship as most other European countries have.
But unlike Ssali, Tailmoun has not yet managed to become a citizen in the only country he knows. "It's not just a question of getting your birth certificate and applying," he told DW. "Many of us come from countries where it's very difficult to get documents. I'd have to return to Libya and spend a lot of time there. And during the time of [Moammar] Gadhafi, it also meant risking being conscripted into the army."
Tailmoun says along with the lost opportunity to young people, the current law also involves considerable loss of investment by the Italian state. "For those of the second generation, we're talking about a waste. We've been raised here, studied in Italian schools, been vaccinated and received health care," he says. "We've cost the Italian system and now can Italy really afford to send us away or treat us like we're foreigners?"
He said it's a question Germany asked itself in the 1990s before they reformed their citizenship law, realizing the cost to the state in sending back a generation of young Turkish immigrants it had educated.
A matter for the EU?
Italy's majority center-left Democratic Party promises it will push to pass the reform. It's well aware Italy is facing a major demographic challenge, with one of the highest percentages of older people in the world and lowest birthrates. The dearth of young people is exasperated by a prolonged economic slump that has seen some of the most talented young Italians emigrate.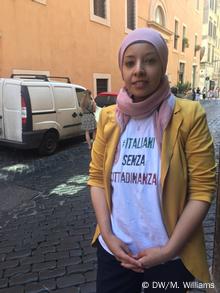 Mahmood says the situation is untenable
But the Northern League anti-immigrant party says it will do all it can to block the bill, as does the populist Five Star protest movement.
"Citizenship is a matter that the EU must resolve, not Italy," says Five Star spokesperson Luigi di Maio. "Just as the question of asylum must be dealt with on an EU level, so too must citizenship. Otherwise, this new law risks releasing a pull factor whereby in passing a new citizenship law, we attract even more migrants" crossing from Libya to Italy.
Read more: Migration crisis: Italy's threats a plea for help
But Marwa Mahmood says the Five Stars and the Northern League are purposely conflating the plight of second-generation Italians with the migrant crisis and playing on people's fear of terrorism.
The cultural educator from the northern city of Reggio Emilia got her citizenship after four years of wrangling with the Egyptian bureaucracy. By then, she'd finished university, with a range of career and student exchange options closed to her.
"I hope this law passes soon because we can't go on like this," she says. "There are too many citizens hanging by a thread."