Amadou* (above) has made it to safety. He can hardly believe it. He sits anxiously in a waiting room at a home for unaccompanied refugee children in Scicli in southern Sicily. His arms crossed, he taps his foot nervously and looks around the room.
"You can't imagine what it means for me to be here and no longer in Libya," the 17 year old says quietly. "Italy is like a paradise for me." A smile comes across his face as he says that: "I am so thankful that I can be here." His gaze sinking to the floor, he adds, "I have no idea how I survived. God must have protected me."
Read more: What you need to know about the refugee crisis in the Mediterranean Sea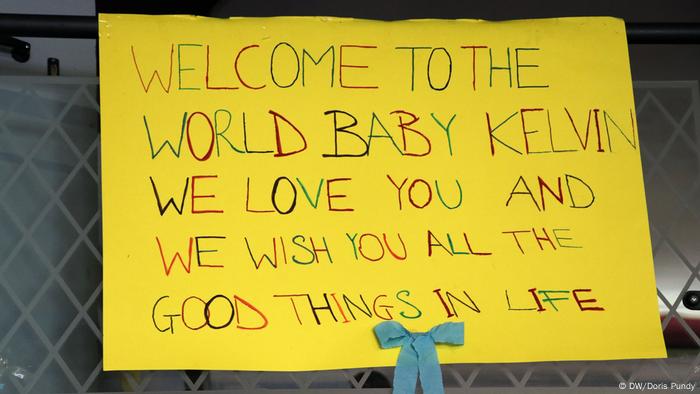 A placard for a newborn baby at the refugee center for children and young mothers in southern Sicily
Abducted and abused
It has been three weeks since Amadou came to Casa delle Culture - House of Cultures - a children's home opened two years by the evangelical church when publicly run facilities ran low on space. It is located about 20 kilometers from the port where Amadou first landed in June. The home is primarily for girls and young mothers, but vulnerable boys may stay as an exception.
"I was under a lot of stress when I first came to Italy," Amadou says. A doctor took notice of him at the port's reception center and sent him to a psychologist.
"I was terrified to meet the psychologist," Amadou says. "I was afraid of being beaten again. I didn't know what to expect."
The boy was abducted and abused on multiple occasions in Libya, where he was stranded for more than two years. "I'm afraid of being hit every time I meet someone with light skin," he says. It was difficult for him at first to interact with the home's care workers.
The eldest of four brothers, Amadou was 14 when he first left his family in Bakau, Gambia. His father, who held a good job there but sometimes went months unpaid, supported his decision, Amadou says. His mother took care of the home and his younger siblings, for whom he set an example. Amadou was aware of acquaintances who had made their way to Europe, he says.
Child refugees
More than 85,000 asylum seekers have so far this year come across the Mediterranean to Italy. Of that, 10,000 are minors. Sicily initially receives two-thirds of all asylum seekers. Buses are ready to take those who have been rescued from boats to shelter on mainland Italy, Marco Rotunno of UNHCR tells DW. The Italian system works well, he says, except that it is reaching breaking point as the number of people arriving rises.
According to Rotunno, it is particularly difficult, in the short space of time between being rescued at sea and being taken to refugee centers, to determine who is in need of special protection."Children in Italy are legally very well protected, but it can be hard to determine their ages." Girls often make themselves out to be older than they are, which needs to be carefully examined because human trafficking has often played a role.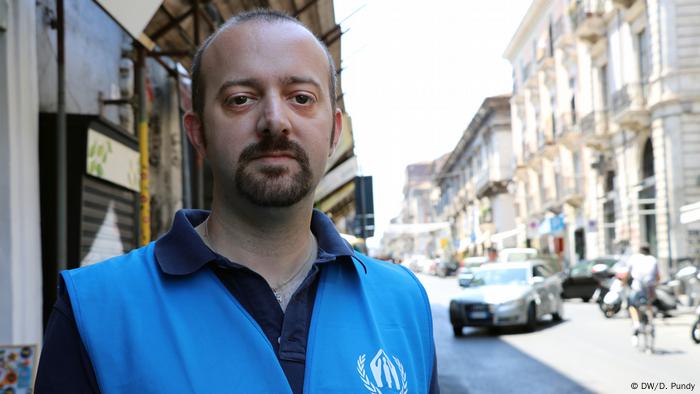 UNHCR's Marco Rotunno: "Our biggest challenge is caring for unaccompanied minors."
The Italian authorities and the UNHCR work closely together with organizations carrying out sea rescue operations, to more quickly assess the asylum seekers' physical and emotional states. "The will to live is often stronger than the body," says Craig Spencer, a doctor with Doctors Without Borders. His experience on rescue boats has shown that physical and psychological wounds often deteriorate faster once people are in safety.
A number of asylum seekers of all ages show evidence of abuse and torture by Libyan traffickers, with open, infected wounds, sometimes even stab or bullet wounds, reports Spencer. Women and children are not spared. "80 percent of the women and girls we rescue have been victims of sexual violence," the doctor says. Many of the boys have scarring. The youngest unaccompanied minor Spencer has treated was seven years old.
Fear of the future
"If I knew what was waiting for me in Libya, I would have never left home," says Amadou. He has often regretted trying to get to Europe. But his father, with whom he regularly speaks by phone, gives him strength. "I would never be able to keep on without talking to my mother and father. They keep me going," he says.
Amadou is trying to establish daily life in his "paradise" of Italy. He goes jogging in the mornings before it gets too hot, then attends carpentry and language lessons. He also meets with his psychologist. Most of the youth at Casa delle Culture stay just a few weeks before being transferred to other shelters on the Italian mainland. Amadou is likely to stay longer.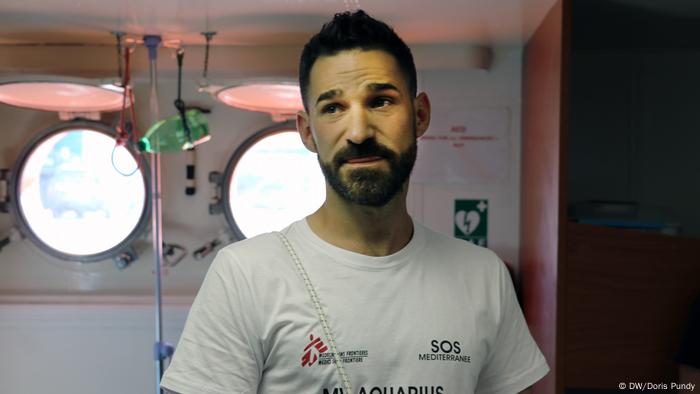 Doctor Craig Spencer on the rescue ship, MS Aquarius: "The psychological strain on refugee children is huge."
"When I think about my future, I just feel afraid" he says. He suffered so many terrible things in Libya and he hopes he can put them behind him. "I want to learn, go back to a normal school, and then study computer science and international relations." To do all that, he will first have to learn to cope with his trauma and fear.
*name changed