A trio of quakes just hours apart and measuring 5.5, 6.1 and 4.9 respectively on the Richter scale terrorized thousands as rescuers worked overnight Thursday to assess the damage. "Many houses have collapsed," Marco Rinaldi, mayor of the mountain town of Ussita, told Sky Italy television."Our town is finished. The second quake was a long, terrible one."
Ussita is 175 kilometers (108 miles) northwest of the capital Rome where residents reported feeling the quake.
"I've felt a lot of earthquakes but that was the strongest I've ever felt. Fortunately everyone had already left their homes after the first quake so I don't think anyone was hurt," Rinaldi added.
Italy's national vulcanology center said the first quake was centered in the Macerata area, near Perugia in the quake-prone Apennine Mountain chain.
"Given the intensity of the temblors, the outcome in terms of lack of victims is miraculous," Interior Minister Angelino Alfano told RAI state radio on Thursday. But he stressed that reports are still coming in from towns and villages across the mountainous region.
"I want to thank those working in the rain in the earthquake zones. All of Italy is wrapping its arms around the communities that have been hit once again," Prime Minister Matteo Renzi tweeted.
The US Geological Survey marked the epicenter near Visso, 170 kilometers (105 miles) northeast of Rome, and said it had a depth of some 10 kilometers (six miles).
Dozens of people have been treated with light injuries or shock but there have been no life-threatening cases that have been reported, civil protection chief Fabrizio Curcio told a late night news conference.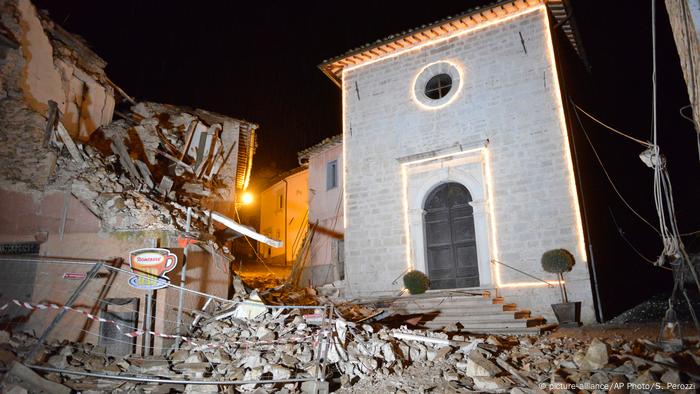 The Church of San Sebastiano stands amidst damaged houses in Castelsantangelo sul Nera, central Italy
"Ultimately, the situation is not as catastrophic as might have been expected," he told reporters.
The central region is still recovering from a devastating August 24 quake that killed nearly 300 people and caused an estimated four billion euros ($4.5 billion) worth of damage. Some 1,400 people are still homeless and living in temporary housing.
In their first editions Thursday morning, several Italian newspapers ran the headlined: "The unending nightmare."
jar/kl (AFP, AP)