Former Italian Prime Minister Silvio Berlusconi has been charged with bribing a piano player at his "bunga bunga" parties to give false testimony in court, Italy's Ansa news agency reported on Thursday.
The new trial is expected to begin in the Tuscan city of Siena in February — shortly before national elections scheduled to take place before May 20.
Berlusconi allegedly paid pianist Danilo Mariani monthly installments of €3,000 ($3,570) to lie during the 2013 trial in which the 81-year-old was accused of having sex with a 17-year-old dancer, better known by her stage name, "Ruby."
The three-time premier denies all wrongdoing, insisting the notoriously wild parties at his Milan villa were just elegant dinner gatherings.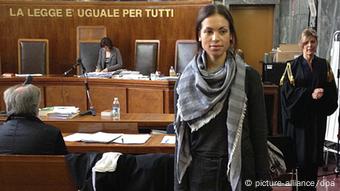 Karima El Mahrough, aka Ruby the Heartstealer, in 2013
He was originally found guilty of paying to have sex with a minor and sentenced to seven years in jail, but the verdict was overturned by an appeals court in 2014 on grounds of insufficient evidence.
Mariani has also been ordered to stand trial for perjury. Prosecutors say he is one of more than 20 individuals, including dancers and showgirls, who were paid millions of euros to make statements in Berlusconi's favor.
Political comeback?
Berlusconi's political career has been marked by a string of scandals and legal battles. In 2013, he was barred from holding office following a tax fraud conviction. The ban expires in 2019, but Berlusconi this month appealed to the European Court of Human Rights for it to be overturned, fueling speculation he was planning to run in upcoming elections.
Berlusconi currently leads the Forza Italia (Let's Go Italy) party, a main partner in the alliance of center-right parties that is on track to win most seats.
Opinion polls suggest no party will win enough seats to govern outright, resulting in a hung parliament. Forza Italia and the anti-immigrant Northern League are both polling around 14 percent, while the right-wing Brothers of Italy is on about 5 percent.
nm/rc (Reuters, dpa)