The royal decree announced in late September permitting women to drive in Saudi Arabia has drawn a lot of attention on Iranian social media. And many Iranians say the step forward for women's rights in Saudi Arabia shows how stalled the women's rights movement in Iran has become.
Ultraconservative Saudi Arabia is Iran's regional rival and the only country in the world to ban women from getting behind the wheel. The order allowing women to drive is to be implemented from June 2018.
One Facebook user, Sherli Shamsian, posted her congratulations to Saudi Arabian feminists. "Following years of struggle by women's rights activists in Saudi Arabia, women are allowed to drive. I hope one day women will have the same rights as men across the world, particularly in Muslim Arab countries."
Other Iranian social media users directed attention toward leaders of the women's movement in Saudi Arabia. One of the most prominent figures is Manal al-Sharif, a leading Saudi women's rights activist and mastermind behind the "Women2Drive" campaign.
In 2011, al-Sharif became famous on social media after releasing an eight-minute video in which she drives illegally through the city of Jeddah. She was harassed and jailed as a result and launched the Women2Drive campaign afterwards.
Iranian women's rights taking a back seat?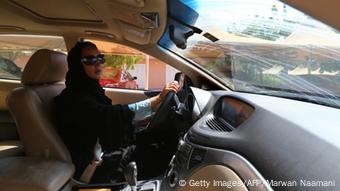 Manal al-Sharif was arrested in 2011 for driving in Saudi Arabia in protest
Iranian social media was also full of commentary against Iranian conservatives, whom critics blame for obstructing the women's movement in Iran. There was also praise for the growing dynamism of the women's rights movement in Saudi Arabia.
Parinaz Etesam posted on Facebook that Saudi Arabia was pulling ahead of Iran on social issues. "As of next year, women are allowed to drive in Saudi Arabia, and even before, they were allowed to enter sport stadiums. My question for Iranian nationalists is how can you find a pretext now to deride Saudi Arabia? Because on many issues, it has left us behind."
Another Iranian Facebook user said Riyadh was now a flag bearer for current women's rights reform.
Ehsan Fathi posted on Facebook saying that Iran should follow Saudi Arabia's example. "Saudi Arabia appointed its first female spokesperson, Fatimah Baeshen, for its embassy in Washington, hours after women were granted the right to drive. Tehran should take Riyadh as a role model for democracy."
On the other hand, some users view the reforms with suspicion. Amir Ebthaj tweeted, "Let's wait and see if the reforms in Saudi Arabia remain as small as Umm Kolsum's show on TV, or if the rights of Shia minorities in Saudi Arabia and the people of Yemen will also be respected."
A Facebook user named Soheyla Ariya posted, "If today Saudi Arabia allows women to drive or to go to stadiums, our women enjoyed a hundred times more freedom and dignity half a century ago."
Sarcasm and skepticism
The Saudi social reforms also drew sarcasm on Iranian social media.
One tweet read, "The moves by the Saudi king will lead to strokes among Iranians! They have to slow down! We are accustomed to taking one step forwards and three steps backwards! That's the way reforms should take place."
Massimo tweeted, "The way that Riyadh has outpaced us in social reforms, I guess we have to take part in the lottery for going to Saudi Arabia in few years."
Kalantar also tweeted, "With all these things happening in Saudi Arabia, the Islamic Republic of Iran has to do all it can to encourage the Haj pilgrims to return to the country. I assume all of them want to take asylum in Saudi Arabia!"
Some Iranian users have believed that the social stage in Saudi Arabia is still not set for such fundamental reforms and expressed concerns that hardliners pose a serious threat when it comes to implementing changes.
One Iranian user denounced men's aggressive attitude towards women drivers in Saudi Arabia and said reforms take too long in the heavily patriarchal Saudi society.
Rose Maryam posted a video of a female driver being beaten up by men and wrote, "Cultural change is key for any reforms. When the social stage is not set, freedom will be of no avail."