The punishment was harsh, but for some it wasn't harsh enough. Writing on his website "Free Saudi Liberals," Raif Badawi had criticized leading Saudi scholars and the role of Islam in public life in Saudi Arabia. The judge called that "offending faith," and went on to accuse Badawi of ridiculing Islamic dignitaries and crossing "the boundaries of obedience." Later, a charge of apostasy was also added to the list, which carries the death penalty in Saudi Arabia. In July 2013, the sentence was passed - 600 lashes and seven years in jail. Badawi appealed, and in May this year the judge announced a new sentence: 1,000 lashes and ten years in jail, plus a fine equal to 195,000 euros ($250,000).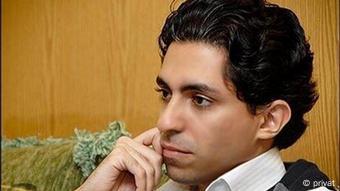 Badawi was sentenced to 1,000 lashes and ten years in jail
Badawi's fate is no isolated case. In Saudi Arabia, human rights activists and critics of the establishment are regularly sentenced to draconian punishments. In July this year, one court sentenced the activist Walid Abu al-Khair to 15 years in jail. According to an Amnesty International report, the judge found him guilty of "disobedience to the ruler," "attempted questioning of the legitimacy of the king," "damaging the reputation of the state by communicating with international organizations," and the "preparation, possession, and passing on of information that endangered public order." Al-Khair is also a human rights activist who earns a living as a lawyer, and one of his most prominent clients is Raif Badawi.
Flexible law
In his ruling, al-Khair's judge also made use of a new anti-terrorism law, even though that was not in force when al-Khair was charged. The law, which came into force in February 2014, was meant to give the state a weapon against "terrorist crimes," a catch-all term that the legislature used to encapsulate the following crimes: attempts to "disturb public peace," to "destabilize the security of the population of the state," to "threaten national unity," or to "damage the reputation or the image of the state." The Saudi judges are now basing a number of their rulings on these flexible terms.
In the last two years in particular, several Saudi human rights activists and bloggers have been sentenced to long jail terms, which has led to a severe limitation of press freedom in the country. Saudi Arabia currently occupies number 164 out of 180 countries in the press freedom index published by Reporters Without Borders.
Meanwhile, the country is close to the top of the table when it comes to capital punishment. According to Amnesty, at least 79 people were executed in the country in 2013, and 60 in 2014 so far.
Blasphemy
The death penalty is mainly imposed for murder and drug-dealing, but it can also be imposed for "crimes against religion." The Shia cleric Nimr Bakir al-Nimr was sentenced to death in mid-October for allegedly stirring up violence between faiths and organizing protests, as well as disobedience to the king.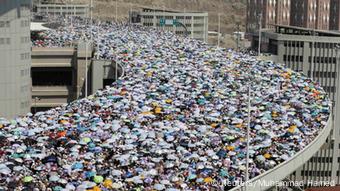 Saudi Arabia sees itself as the protector of Islam's holy sites
The conviction sent out a signal, according to Menno Preuschaft, Islamic studies professor at the University of Münster in Germany. "It demonstrated that they are not willing to tolerate any formof, or tendencies toward, revolution or transition," he told DW.
Preuschaft said it was not surprising that so many rulings are based on religious laws. The ruling family in Saudi Arabia draws its political legitimacy from its role protecting Islam and its holy sites. That role justifies its theological leadership position within Sunni Islam both nationally and internationally. "From the monarchy's point of view, any criticism of religion is a criticism of its own leadership," said Preuschaft. "That's also how it defends its own monopoly on power."
Diplomatic challenge
The disastrous human rights situation in Saudi Arabia represents a diplomatic challenge for German foreign policy. Saudi Arabia is an important international player, both strategically and economically, explains parliamentarian Ralf Mützenich, who sits on committees on both foreign policy and human rights in the German Bundestag.
That leads to strains in the relationship, because of the human rights situation and the death penalties. "Of course, it raises difficult questions," said Mützenich. "But we can't ignore those. We have to address them openly."