This week, the red carpet has been rolled out in Russia for a slew of current and former Latin American leaders.
In Moscow, President Vladimir Putin met Venezuelan President Nicolas Maduro on Wednesday. Maduro was in town for Russian Energy Week, during which international government and industry representatives are discussing the future of energy — and Russia's role in it.
In St. Petersburg, former Brazilian President Dilma Rousseff, who was ousted by the legislature last year after corruption allegations, addressed a forum on cooperation between Russia and Latin America. Former Colombian president Ernesto Samper used his time at the event to stress Russia's strategic value to the region.
"Russia is talking about the necessity to construct a multipolar world," said Viktor Kheyfets, a professor of international relations at Saint Petersburg State University, referring to the country's efforts to decentralize global power. "Latin American countries are doing the same. But I'm not sure if their visions of a multipolar world are the same."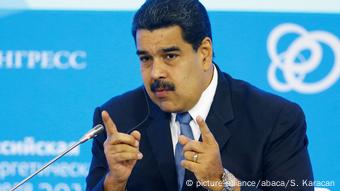 Maduro was in Moscow for Russian Energy Week
'The only country'
Venezuela has been increasingly dependent on Russia since its economic woes escalated with the fall of oil prices in 2014.
"Right now, Venezuela needs all the help it can get," said Dmitry Rozental, the academic secretary at the Institute of Latin America at the Russian Academy of Sciences.
"Russian help, Chinese help, help from any other country," Rozental said. "But now China is trying to be more moderate towards Venezuela. Other countries are not able to help Caracas solve its internal problems."
Volatile Venezuela is also increasingly being viewed as too much of a financial risk for nations to invest in. "That leaves Russia as the only country which can provide financial support to the regime of Nicolas Maduro," Rozental said.
That help has largely come from the Russian state oil company Rosneft. It emerged this summer that Rosneft has paid a total of $6 billion (€5.1 billion) to the state-owned Petroleos de Venezuela. In exchange, a repayment schedule was established for a mix of cash and oil assets from Venezuela, which has the largest reserves in the world.
Regional focus
Russia is not only throwing its weight around in Caracas. Earlier this year, Rosneft began oil exploration in Brazil's Amazon region after buying a controlling stake in drilling wells in the Solimoes Basin.
And state-owned Gazprom has been cozying up to Argentina's government, exploring the possibility of joint ventures in natural gas production.
Rosneft has also stepped in to provide Cuba with oil, picking up a key customer of Venezuela's and triggering accusations from Venezuelan opposition lawmakers that Russia is profiting from the suffering of their country.
Professor Kheyfets is not altogether optimistic for that arrangement. "I'm not sure it will be very fruitful," he said. "The Soviet Union had a great relationship with Cuba for decades. But Russia abandoned Cuba, and Cubans remember very well when they had to survive without any assistance from Moscow," he added, alluding to a period of Cuban economic turmoil in the 1990s triggered by the collapse of the Soviet Union.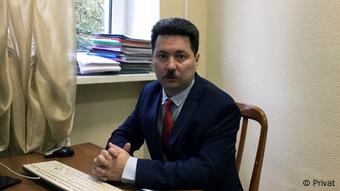 Kheyfets says Russia has found common ground with certain Latin American leaders
The long game
Venezuela's dependency on Russia is unlikely to decrease anytime soon. Speaking in Moscow on Wednesday, President Maduro raised the possibility of restructuring debts owed to Russia as his country struggles to pay them back.
"We see that Venezuela is going through difficult times," Putin told his Venezuelan counterpart during their meeting. Maduro duly thanked the Russian leader "for all the support, political and diplomatic."
That support is even more vital in the wake of sanctions imposed on Venezuela by US President Donald Trump. The measures are aimed at preventing the country from obtaining any further loans from American financial institutions. The sanctions were a response to Maduro's setting up a body to redraft the constitution, a move that critics describe as an effort to consolidate his power.
Russia, itself under international sanctions, is less critical of such actions.
Spheres of influence
The Institute of Latin America's Rozental said Russia was "without a doubt" interested in Latin America for political as well as economic reasons.
"Russia thinks these governments can support its position and help its geopolitical struggle with the US and other Western countries," Rozental said.
And, after a week of high-profile visitors from the region, Putin's intentions in Latin America have been brought into even sharper relief.