In Latin America, support and esteem for democracy have fallen to a historic low. The trend is most pronounced in Brazil, where President Dilma Rousseff was removed from office last week.
"The past doesn't count. Elected government representatives have to earn their voters' approval afresh each day." This is one of the conclusions in a survey of public opinion by the non-profit organization "Corporación Latinobarómetro," published at the beginning of September.
Since 1995 this renowned organization has been conducting annual assessments of the approval levels in the region with regard to democracy as a form of government. The research is supported by the Inter-American Development Bank (IDB) and Transparency International.
The current analysis, which is based on a survey of 20,000 people across 18 Latin American countries, shows that democracy's approval ratings in the region have dropped from 61 to 54 percent since 2010.
Political earthquake in Brazil
In Brazil the ratings have plunged from 54 percent to 32 percent within a year. The only place where they are lower is Guatemala, where President Otto Perez Molina was forced to step down over accusations of corruption. The approval rating for democracy there is now 30 percent.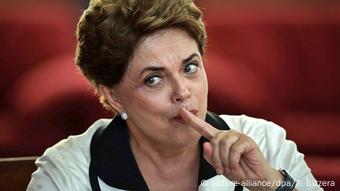 Corruption allegations cost Brazilian's ex-President Dilma Rousseff her office
The consequences of the situation in Brazil are especially far-reaching. "Brazil is not just the biggest and most powerful country in Latin America, it's also the only one that associates with world powers," the study comments. It explains that this is why the state of Brazil's democracy is crucial for the whole of the region. "Brazil's political recovery is linked to the new government's ability to demonstrate progress in the fight against corruption."
Legacy of the past
Many Latin American countries have only returned to democracy within the last 30 years. They have still not fully come to terms with the past under the military dictatorships of the 1970s and '80s.
According to the new study, the rise of political indifference in the region weighs particularly heavily. Of this year's respondents, 23 percent said they didn't care whether their government was democratically legitimized or not. Only 16 percent said the same in 2010.
"The loss of trust is manifesting itself at a time when the region's gloomy economic outlook is combined with citizens' high expectations of their government representatives," says Marta Lagos, the founder and director of "Corporación Latinobarómetro." She points out that this is the first time since they started collecting data that this combination of factors has occurred.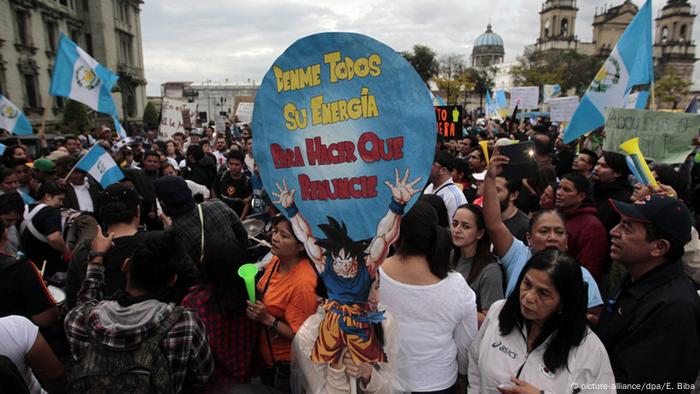 Guatemala saw mass protests in 2014 demanding the resignation of President Otto Molina
Recession and corruption
But a poor economic outlook can hardly be the crucial deciding factor in the growing disillusionment with democracy. During the global financial crises of 2008 and 2009, approval ratings were at 59 percent, and one year later they had even reached a peak of 61 percent.
"Society has changed," says Marta Lagos. "Things that were tolerated five years ago are no longer acceptable today." People are demanding concrete solutions for concrete problems, she says, and their immediate implementation: "They're no longer prepared to be put off until later."
At first glance, the results from Venezuela may seem surprising. The country is in a state of political and economic collapse, yet democracy is relatively popular here, with an approval rating of 77 percent. A possible explanation is that many Venezuelans no longer see the current government under President Nicolas Maduro as democratic and want to see a return to constitutional values.
Only the present counts
Democracy also became less popular in Chile, Uruguay, Nicaragua and El Salvador. In Chile it wasn't just ratings for democracy that fell, but also those of President Michelle Bachelet. She completed her first term in office in 2010 with around 80 percent approval ratings, but these have plummeted in her second term, which began in 2014.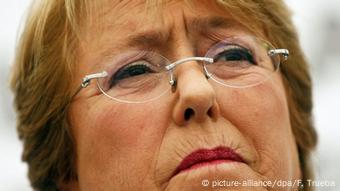 A series of scandal have place Chile's president, Michelle Bachelet, under pressure
The reason for the drop wasn't just the economic crisis – sparked by the falling price of Chile's main export, copper – but also a corruption scandal involving Bachelet's son. "This is the sign of the times. Past achievements no longer guarantee anything," explains Maria Lagos.
Corruption, nepotism and social injustice – "With democracy, there are also increased demands on the people's elected representatives to combat structural problems in the region," Lagos says. She points to the only positive result to emerge from the Latinobarometer: Approval for the return of authoritarian regimes has fallen from 16 to 15 percent.