Russian President Vladimir Putin's spokesman Dmitry Peskov on Wednesday said the two leaders would discuss the possibility of financial aid for the Venezuelan government when they meet later in the day.
"With regard to the Venezuelan-Russian talks, debt restructuring is, of course, one of the subjects of the negotiations ... no doubt it should be seriously discussed," Peskov told reporters, hours after Venezuela's leader Nicolas Maduro made similar comments.
Maduro spoke at an energy forum in the Russian capital and insisted that the Caracas government would meet all of its obligations despite worsening political and economic crises which have seen the Latin American country face international isolation.
Debts to Russia and China
As of 2016, Venezuela had $2.8 billion (2.37 billion euros) in outstanding loans to Moscow, which it has struggled to service due to a slump in oil prices which have left it on the edge of bankruptcy. The loans were granted five years earlier to finance the purchase of Russian arms including tanks and missiles.
Moscow appears to have extended further loans through its largest oil producer, Rosneft, which is run by Putin's top ally Igor Sechin.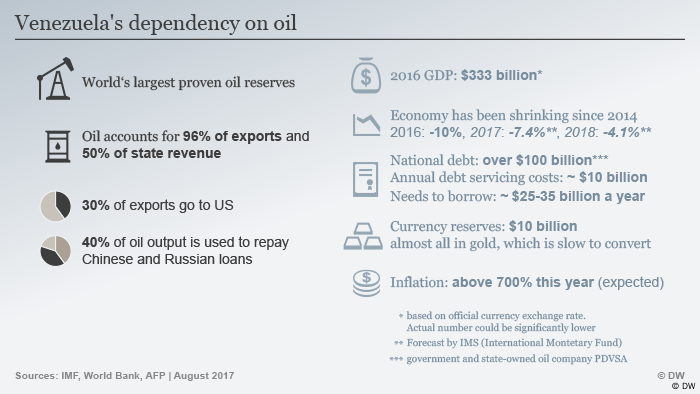 Rosneft admitted in August that around $6 billion in pre-payments had been made to purchase crude and other products from Venezuelan state oil company Petroleos de Venezuela (PDVSA). Some 9 million tons of oil annually are sold to Russia, Sechin said.
Maduro's leftist government has faced hostility over what his opponents says is a power grab. International powers accuse Maduro of taking over state institutions in a bid to counter opposition pressure for him to quit. Anti-regime protests in recent months have killed close to 130 people. Meanwhile the country is facing a shortage of food and medicine.
Cold War allies remain
Moscow has sided with Maduro's regime and criticized the Venezuelan opposition for "disrupting" elections. The two allies have enjoyed close relations for many years and Maduro's predecessor Hugo Chavez was always a welcome guest at the Kremlin.
The US has imposed sanctions against Rosneft for Russia's role in the Ukraine crisis, and has done the same against Maduro personally, with the White House condemning him as a "dictator."
mm/uhe (AFP, dpa, Reuters)