For Nairobi-based journalist Soila Kenya, technology is a tool to unearth the truth. She recounts an attack by terrorist group al-Shabab last year, when militants struck an army base in Kulbiyow, Somalia. Kenya's defense forces downplayed the damage and claimed they had repelled the attackers.
But satellite stills and drone footage told a different tale.
Analysts from African Defense Review and research group Bellingcat found militants had in fact overrun the base — and inflicted heavy casualties in the process.
Satellite technology unearthed something that "really would not have been possible otherwise," said Kenya.
Drones can get access to difficult terrain
Fact-checking is not the only area in which technology can aid reporting. Drones and sensors help journalists reach regions they can't easily access on foot, said South African journalist and director of NGO Code for Africa Justin Arenstein. The civil war in Syria, for instance, attracted more media attention than the one in the Democratic Republic of Congo, he said.
"Although there are bigger movements of people and reports of larger numbers of civilian deaths out of the Congo, it's receiving far less attention, simply because there's no visual evidence of this happening, he added.
Tracking underreported stories
Tech can help shine light on underreported issues by making them visible — just like movements in war zones. One project tracked land-grabbing in South Africa's vast Kruger National Park. Satellite images and drone footage showed how communities were pushed out to make space for game reserves built by billionaires.
Another project used underwater microphones to catch illegal dynamite fishing off the Tanzanian coast that's destroying marine habitats. When the sensors detect an explosion, a drone is automatically dispatched and a reporting crew alerted. Over time, the data generated by these 'hydrophones' can be used to detect patterns.
A third distributed phone-like sensors to map air pollution in Kenya's smoggy capital Nairobi, crowdsourcing data that is not collected by the government.
A new way of telling old stories
"I am trying to use a new tool, a new technology, to look at an old problem," said photographer Johnny Miller, founder of the nonprofit network africanDrone, whose flying cameras have documented inequality from Dar es Salaam, Tanzania, to Nairobi, Kenya. The project has spread to Mexico and the US as well.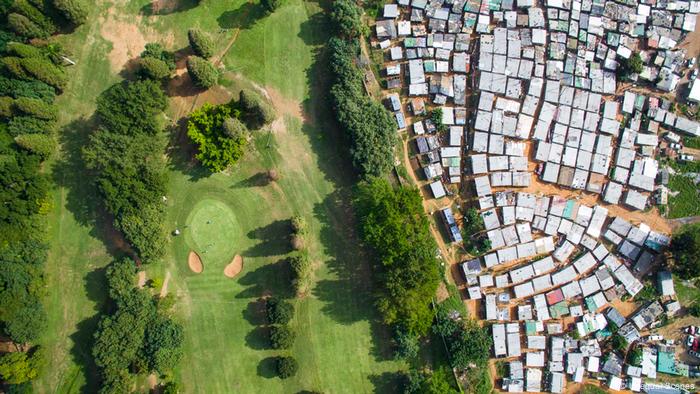 A concrete wall separates this golf course in Durban, South Africa, from an informal settlement
These stories are not new. South Africa, where Miller started his "Unequal Scenes" project, was ranked the most unequal country in the world by the World Bank in 2017. Miller's images show the contrast of luxury mansions sat beside densely-packed slums from a perspective rarely seen before. "Drones disturb you, shake you up," he said.
Game over for drones?
One reason drones have gotten off the ground so quickly was the lack of legislation prohibiting their use. This is starting to change. South Africa was the first nation in sub-Saharan Africa to put regulations in place curbing the rights of drone pilots, requiring them to go through a lengthy and costly registration and certification process.
More African countries are following suit. Kenya and Tanzania, for instance, require pilots to register their drones and obtain a license from civil aviation authorities — even though there are no official training organizations in these countries to obtain these licenses. In Rwanda, foreign drones have to be operated by Rwandan citizens or businesses. A further headache for pilots and lawmakers is whether drones, which fly with some degree of autonomy, count as toy aircraft or flying robots.
While regulations can help protect the public from dangerous flying — such as drifting too close to buildings, airports and crowds — they are often restrictive.
Miller says citizen journalists, artists and small business owners are being held back from using drones because getting a license is complicated and expensive. The new regulations are a sign that many African governments recognize the empowering potential of drone technology, he added — they fear it gives citizens "too much power."
He said legal barriers could perpetuate the inequality already in place in many African countries if access to drones remains in the hands of the wealthy.