Amid a blue sea background, an animated shell holds a pearl that is actually a mobile phone, as fiber optic cables protrude from either side of the image. A caption appears on the video reading: "The internet lies on the seafloor."
"Deep Down Tidal," by South African new media artist Tabita Rezaire, explores the idea of the ocean as a storehouse of black people's lost memories and stories. It features in the "Afro-Tech and the Future of Re-Invention" exhibition by the Hartware Medienkunstverein (new media institute) now showing at the Dortmund U-Tower gallery.
Rezaire's video installation shows how the deep-sea fiber optic cables that facilitate global communications coincidentally follow the former routes of colonial slave ships, illustrating how the internet today maintains similar forms of colonialism and discrimination.
Read more: Defining Black art in the age of Black Power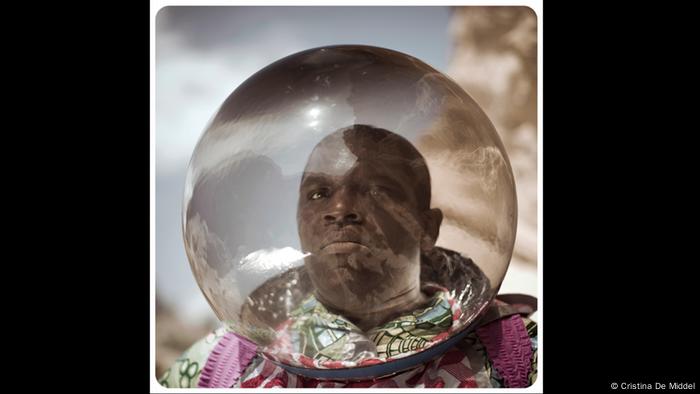 A still from "The Afronauts," artist Cristina de Middel's 2012 meditation on space age Africa
Reclaiming the past in the future
By juxtaposing the speculative narratives unfolding in the Afrofuturism artworks on display — including the "The Afronauts," a part-fictional art book of African space travel that serves as kind of precursor to the film "Black Panther" — with actual inventions from different African countries, "Afro-Tech and the Future of Re-Invention" aims to reinforce the fact that Africa has long been a continent of technical innovation.
"Afrofuturism is always about political ideas and concepts, it's always about looking forward. How can we imagine a future that is not based on racism, exclusion and exploitation?" said curator Fabian Saavedra-Lara.
"Because if there's no room for their own history in the present, because one is discriminated against and their own story is in tatters, their roots forcibly cut off due to slavery, then we must look for a space for their history in the future. That's one of the basic ideas of Afrofuturism."
Read more: Berlinale — Africa's rising film industry
The blockbuster film "Black Panther," released last month, portrays the high-tech African nation of Wakanda that is technologically almost a century ahead of the rest of the world.
"Right now, with the spread of digital technologies, there is an incredible boom in sci-fi and visions of the future on the African continent," said Saavedra-Lara.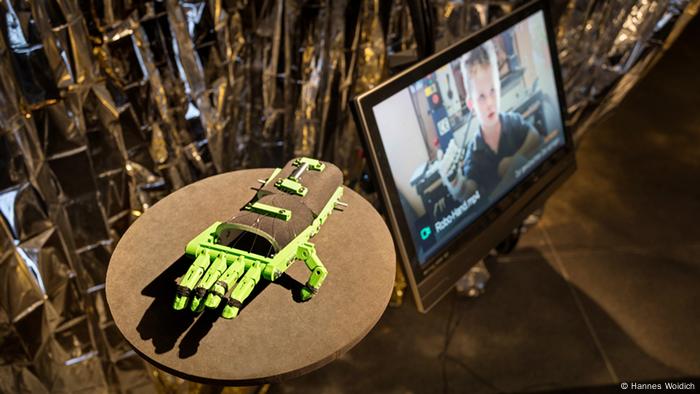 3-D printout of a hand prosthesic based on an open source design from South African company Robohand
But there is also a wellspring of technological innovation happening today.
The exhibit features a video installation, for example, that shows a hand prosthetic created from a 3-D printer, a South African invention that is a world leader in its field.
"We claim that this is not just a fiction, but that these narratives are becoming reality on the African continent at the moment," said curator Inke Arns.
Opening up communication
Also showcased at Dortmunder U is M-Pesa, a mobile digital payment and microfinancing service that was developed more than 10 years ago in Kenya. By allowing people in isolated rural areas to make transactions with their mobile phones — without having to rely on a bank account — the technology has revolutionized money exchange in the developing world.
"Now you can see how Europe or other countries could make good use of this method," said Sannssi Cissé, a member of the German African Business Association. "Again, we are 10 steps behind in comparison."
Also on show is an ultra-rugged battery-powered WiFi router that provides open internet access in very isolated areas.
Developed by Kenyan company BRCK, the SupaBRCK router is waterproof and can run for up to 10 hours without external power, an innovation that has evolved in response to frequent power outages in various African regions.
"It makes no sense to develop products in Africa that are needed somewhere else, we have to make them here and test them here, that's the only way we can develop ideas," said Jeff Maina, creative director at BRCK. "We think a great deal about what our future will look like in Africa, and while being part of that evolution sometimes feels like being part of a science fiction movie, we are making a product that will be part of the future."
"My goal is to connect people who do not yet have access to the internet, and if you have access to the internet you have access to the whole world," he said. Maina believes collaborations and partnerships will be essential in the future to advance projects on a global scale.
Collaborating with African innovators
This is exactly one of the goals of the "Startup Night Africa," which will take place on Tuesday in Berlin and is coorganized by the Federal Ministry for Economic Affairs and Energy, the German African Business Association, the global network of German chambers of commerce and the Lionesses of Africa, a women entrepreneurs network. Here, startups from Germany and various African countries will exchange ideas and develop possibilities for collaboration.
"Developments in Africa have certainly not been taken seriously in the past, but a change is taking place," said Cissé. "The fact that governments or ministries are now dealing with innovations from Africa shows us what a paradigm shift has taken place."
With more than 40 percent of the population under the age of 15, Africa is the youngest continent in the world. "Africa is a market that the West should have in view — and at the very least start to get into," said Maina.
This is is already happening in popular culture. "Afrofuturist settings or ideas are finding their way into the global entertainment industry," said Saavedra-Lara.
"It is important for us to realize that there are completely different perspectives on the world than our own, and that is what we need to create a space for discussion to critically examine ourselves and reach a common ground on equal footing."
"Afro-Tech and the Future of Re-Invention" runs through April 22.