The quintessential "African film" does not really exist, says Vinzeno Bugno, project manager of the World Cinema Fund (WCF): "The term sounds too banal, because it is a huge and diverse region." At this year's Berlinale Africa Hub, an initiative of the European Film Market, Bugno talked about funding opportunities for African filmmakers. It is only the second time that Africa has been present at this important industry event, which takes place at the same time as the Berlinale — the Berlin International Film Festival.
"Things have changed a lot over the past few years," says Bugno, who also sits on the selection committee for the film competition. For example, South Africa now has professional structures in place for filmmakers. But other regions also have a lot to offer: "As a World Cinema Fund, we have supported three Sudanese projects in recent years," says Bugno.
The WCF, funded by the Federal Foreign Office and the German Federal Cultural Foundation, is trying to close a gap on the African continent, as there are very minimal funding opportunities available for young filmmakers. Congolese director, Machérie Ekwa Bahango, who made her debut at the festival this year with her film "Maki'La" confirms this: "We have had no support from the government and try to get on with things as best as we can." However, the 24-year-old is optimistic about the future of the film industry in her country: "I think that if they see our films, which we produce with great courage and with our own resources, then sooner or later they will also become interested," she told DW.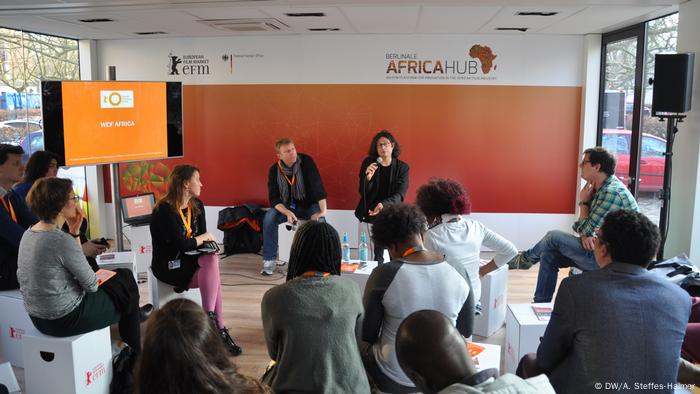 This is the second time the Berlinale Africa Hub has been held at the Berlin International Film Festival
Too few African films on the silver screen
Many cinemas in Africa also have a hard time simply staying open: expensive film rights, high rent and pirated copies of movies have caused a movie-slump on the continent. And the theatres which are in operation mostly show Hollywood productions. In the Democratic Republic of the Congo (DRC), all cinemas were sold in the 1970s during the rule of former president Mobutu Sese Seko. Political unrest and armed conflict made it difficult for filmmakers to work freely and creatively over the next few decades. The situation only eased after 2010 and in 2014, the first international film festival took place in Kinshasa. Cinemas are now popping up again around the country.
"I think more and more of our audiences are becoming receptive to African narratives," says South African filmmaker, Sara Chitambo, "For a very long time we've been seeing content that's very American-centered, so I think we're seeing audiences now wanting to see themselves on screen, have stories which reflect themselves and reflect their lives and lived experiences."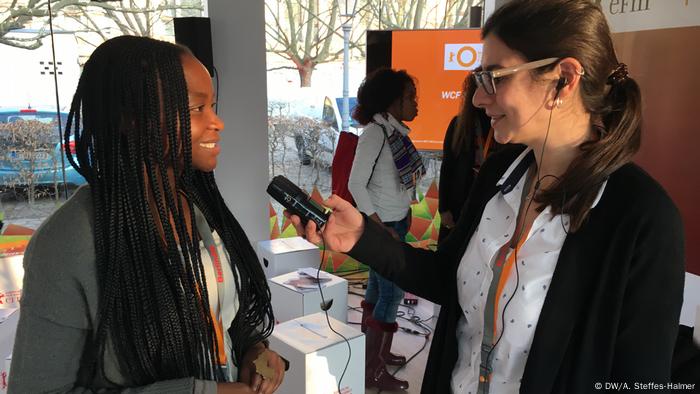 South African filmmaker Sara Chitambo (left)
Chitambo is currently working on two productions which focus on women: "Home in My Heart," a coming-of-age story about a Congolese woman growing up in Johannesburg, and "Women Covering Conflict," a documentary about journalists in crisis areas. Chitambo has not yet had her projects represented at the Berlinale. She attends the festival to exchange ideas with other filmmakers.
Young people rule the film industry in Rwanda
Sammuel Ishimwe has already achieved what Sara Chitambo dreams of: in his short film "Imfura", presented at this year's festival, he tells the story of a boy who lost his mother during the Rwandan genocide — much like the filmmaker himself. "Everyone has their own personal view of the genocide," says Ishimwe, "We cineastes want to show people dignified, with their true stories, their dreams and fears." This is the universal role of cinema, because people all over the world share the same emotions.
"Genocide is a recurrent theme in Rwandan films," explains Igor Cesar, the Rwandan ambassador to Germany. Rwanda's film industry is still very young as it was only able to develop after the 1994 genocide which claimed the lives of at least one million people. The fact that this is the first time a Rwandan film has been presented in the short film section at the Berlinale makes Cesar particularly proud.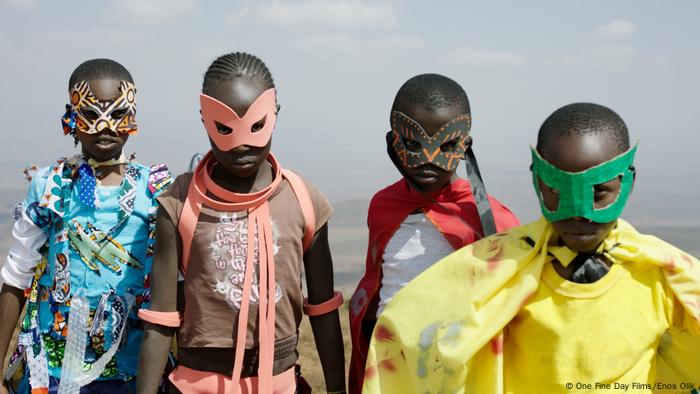 The Kenyan film "Supa Modo" is about a young girl who wants to become a superheroine
Arthouse over Hollywood
One African country whose film scene is well-known far beyond its borders is Nigeria. In 'Nollywood', 400 to 2,000 films are produced every year. However, these films often follow the same pattern, so the industry lacks creativity and risk-taking, says Nigerian filmmaker Tunde Aladese: "It's very much about what can sell and what can make money." She welcomes the fact that the industry has grown and many people have found work there. However the recent film school graduate wishes there were more Nigerian arthouse productions.
Berlinale jury president, Tom Tykwer, has been a fan of African cinema for many years. Since 2008 he has offered training and further education opportunities to African filmmakers with his production company, One Fine Day Films. The drama "Supa Modo" by Kenyan director Likarion Wainaina — one of the company's latest productions and co-produced by the Deutsche Welle Academy — was celebrated this year at its festival premiere.
But despite all their heart and soul, no African production managed to win one of the coveted Golden Bears at this year's festival. In 2017, the much-acclaimed drama "Félicté" by French-Senegalese director Alain Gomis, was awared the Silver Bears. In 2019, African filmmakers are hoping to build on this success.