""I have always loved the movies. 'Titanic' was a very important film for me," says Macherie Ekwa Bahango, peering out shyly from under her afro. The 24-year-old never dreamed that one day she would have her own picture showing at the Berlinale, the German capital's film festival. But that is exactly what happened on February 17th. Tickets sold out for the premiere of "Maki'La" at the Academy of Arts. Bahango's film tells the story of 19-year-old Maki (Amour Lombi), a street urchin with a big heart who proves her mettle in the megacity of Kinshasa.
Maki is married to petty criminal Mbingazor (Serge Kanyinde), an albino with an ugly tattoo, who would rather drink than take care of his young wife. Fed up with quarrelling, she leaves him. But Kinshasa is too small for both of them. Their paths keep crossing and they have to deal with the same people. Maki meets and develops a deep affection for the much younger Acha (Fidéline Mafimbu), which makes Mbingazor very jealous. He begins to follow them.
200,000 street children in Kinshasa
"It was important to me that my debut film was about an issue which impacts on society," Bahango told DW. "I met a group of street children and struck up a very special friendship with them." Bahango talked about the prejudice experienced by an estimated 200,000 street children, who are stigmatized and marginalized. "But we share the same dreams," she said. "I did this movie to pay homage to them."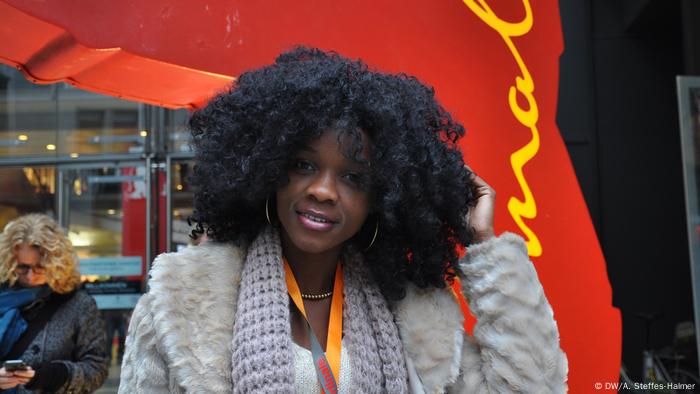 Macherie Ekwa Bahango taught herself how to make movies
That is why the movie is not only about the dark and rough side of life on the streets. It is also about love and friendship. One of its most beautiful scenes is the marriage of Maki and Mbingazor and their honeymoon night. This is poignantly contrasted with images in which young people are beaten, raped and robbed, or stand on street corners with empty eyes and drugged out of their minds.
Bahango, who hails from the east of the Congo, cast almost only unknown actors. They take on their roles with a sometimes disturbing intensity. Mbingazor's ruthlessness is never left in doubt, but Maki too knows every trick in the book."Maki'La" doesn't pull any punches.
A self-taught director
It took Bahango three years to make the movie. "I started out all by myself," she recalled. She speaks quietly and has a reserved manner but she still fills the room with her presence. Bahango is self taught. She learned how to make movies through the internet, where she also met like minded people. A first success was her involvement with the film "Felicite", which won a Silver Bear at the 2017 Berlin Film Festival. Bahango translated the screenplay into her mother tongue Lingala.
That is when she learned how difficult it was going to be to make her own movies. She realized she would need help. "I told my father that I wanted to be a director and succeed in this business," Bahango told DW. He lent her some money, which allowed her to start shooting by the end of 2014. She proved to be very resilient and managed to convince a growing number of people about her project. Finally Emmanuel Lupia and his company agreed to produce "Maki'La". Other co-producers joined the project. By the start of 2017 it was in the bag.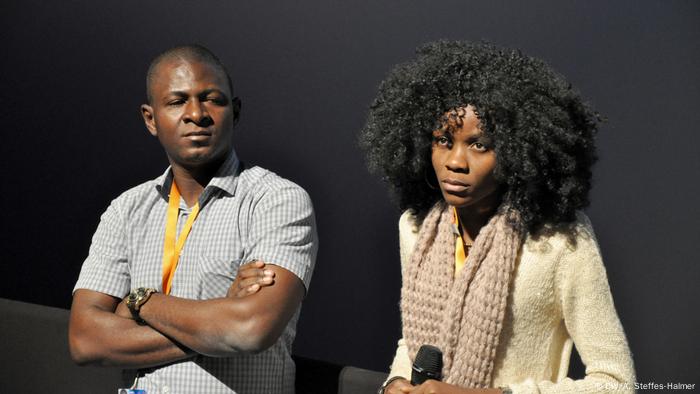 Producer Emmanuel Lupia (left) believed in Bahango's project
The dawn of Congolese filmmaking?
Bahango's story sounds more like Hollywood than the Democratic Republic of Congo, which is not exactly known for a lively film industry. But the young director believes in her country and in other young filmmakers who share her dream and want to make films specifically for a Congolese audience. Bahango says that, together, they will succeed.
"I can't thank my team enough," the young filmmaker told DW, fixing her gaze on her long, manicured nails. She was clearly searching for the right words. "Technicians and actors gave their all for me. For three years, these people were always there for me and I would do anything for them." Her voice broke. All the excitement and tension caused by the world premiere disappeared, leaving a young woman who has proved that it is worth fighting for one's dreams.