Small children lean out of a window at a house in the southwestern German town of Kandel, smiling and waving at the right-wing demonstration passing through the neighborhood.
"We're taking to the streets for you," one of the protesters says to the kids, who grin back at him.
Dueling protests took place again in Kandel on Saturday, ahead of a court verdict in the trial of a refugee who allegedly killed his teenage girlfriend.
Fifteen-year-old Mia V. was stabbed to death with a kitchen knife outside of a local drugstore in Kandel on December 27 last year. Her ex-boyfriend, an Afghan refugee, was accused of murdering Mia after she broke up with him. Both the teen and her parents went to the police to report his threatening behavior.
A state court in the city of Landau is due to deliver a verdict on the murder trial on Monday.
The case sparked months of demonstrations in Kandel that saw thousands of anti-migrant and counter-demonstrators descend upon the town with a population of less than 9,000.
'We just want to live our lives'
In stark contrast to prior months, however, the protests on both sides appeared to be losing steam on Saturday. According to police, 350 people attended a demonstration organized by the right-wing "Kandel Women's Alliance" or "Frauenbündnis Kandel."
Dozens of others joined in counter-protests organized by local Antifa groups from Karlsruhe and Mannheim and the town's "We are Kandel" group, which was launched to counter the right-wing demonstrations in the town.
Local residents found a way around police barriers by setting up counter-protests in their front yards. As anti-migrant demonstrators marched through the neighborhood where Mia V. lived, neighbors brought out speakers, megaphones and vuvuzelas to drown out the right-wing speakers.
One elderly man even used an electric saw to cut through concrete on his driveway while a man across the street used a chainsaw to cut through logs as the right-wing demonstrators passed.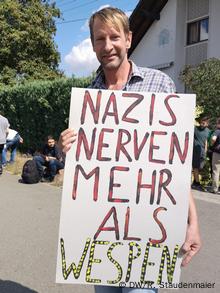 'Nazis are more annoying than wasps'
Holding a sign reading "Nazis are more annoying than wasps," counter-protester Uli Muhlan told DW that he joined in the demonstration to show solidarity with the people of Kandel.
"I hope that there will be fewer protests here," he said.
That sentiment was shared by a middle-aged couple leaning on a gate in front of a driveway, watching a procession of German flags and "Merkel must go" banners walk by.
"It makes us sick," a 43-year-old woman told DW, declining to give her name out of concerns she could be targeted. "We just want to live our lives."
The demonstrations have taken the focus away from Mia V. and her family, she said, adding that "the whole world now thinks that Kandel is right-wing."
From Chemnitz to Kandel
Some of the "Kandel Women's Alliance" demonstrators carried signs showing solidarity with the far-right protests in the eastern German city of Chemnitz, which saw violent clashes with counter-demonstrators, Hitler salutes and attacks on foreigners.
Far-right protests erupted in Chemnitz this week after police said two Middle Eastern men were suspected of stabbing a German-Cuban man during an altercation last Sunday.
Although the cases in Chemnitz and Kandel are similar, the anti-migrant protests in the western German city have been more peaceful, with the organizer of the "Kandel Women's Alliance," Marco Kurz, criticizing the violence during one of his speeches on Saturday.
However, he blamed the media for misrepresenting events and said that the people who gave Nazi salutes "were either dumb or paid to be there."
Another speaker welcomed the "patriots from Chemnitz" who traveled to Kandel for the demonstration, garnering loud cheers from the crowd. Yet another man rounded out the day's protest by warning of "a genocide of the German people and the death of German culture" due to migration.
A 68-year-old woman hanging towards the back of the crowd told DW she wasn't part of the group, but said she was also "not pleased" with Merkel's refugee policies.
"They need to ensure that Germany doesn't change so much," she said.