A refugee, who is reportedly from Afghanistan, is on trial for the murder of Mia, a 15-year-old teenager from Kandel with whom he had been in a short relationship.
The murder trial, which is being held in the southwestern city of Landau, is not open to the public as the suspect is being tried as a minor. His age has been difficult to ascertain, but authorities believe he was under 18 years of age when he allegedly committed the crime.
He is believed to have acted out of jealousy, as the victim broke off the relationship and reported him to police for harassment prior to the murder last December. He reportedly approached Mia in a pharmacy and stabbed her seven times.
Read more - German girl's murder highlights asylum system flaws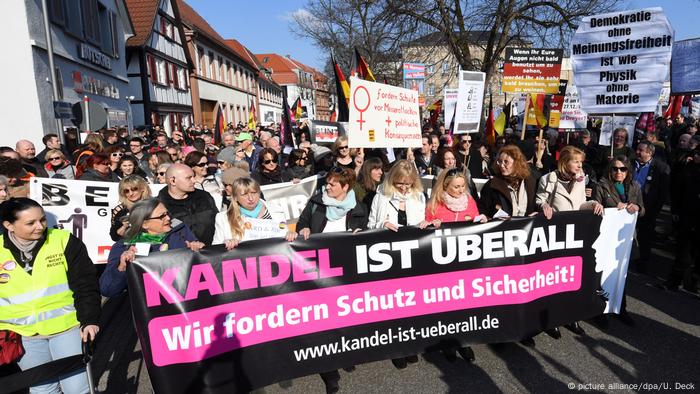 The 'Kandel is everywhere' group has held regular protests against migrant policies since December
The trial comes just weeks after the murder of 14-year-old Susanna, allegedly committed by an Iraqi refugee in the western city of Wiesbaden.
Regular protests
The German teen's death sparked regular anti-immigrant demonstrations in Kandel, most recently over the weekend, organized by a group called "Kandel is everywhere." The focus has now moved away from the girl's murder and aimed more broadly at what the demonstrators say is German Chancellor Angela Merkel's failed asylum policies.
The trial comes amid a wider debate in Germany about the government's policies on migrants and asylum-seekers, which has pitted Merkel's CDU against its Bavarian sister party, the CSU, which controls the Interior Ministry and is keen to enforce much tougher regulations on border control.
There have also been regular counterdemonstrations, organized by the group "We are Kandel."
The trial is expected to last roughly two weeks.
ng/kms (dpa, AFP)