Nadine Sultan Abed Allatef's eyes filled with tears and her shoulders started to shake.
Only 27 days earlier, she had given birth to a baby boy. What should have been a joyous occasion, surrounded by family and friends, was spent instead crossing a sea in a Zodiak rubber boat and spending nights in a cold forest.
Now, exhausted and hungry, the young Syrian woman still healing from a cesarean birth sat on the asphalt ground in a Salzburg transit camp leaning against a chained link fence waiting to bring her newborn and five-year-old son to Germany.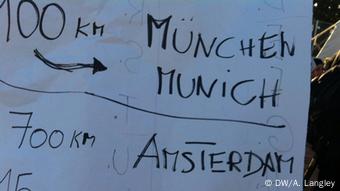 Final destination?
Her husband, Kaasem Zaabi, sat quietly by her side, his face strained. War in their hometown of Dara'a forced them to leave Lebanon, where more than 1.3 million refugees now live in cramped conditions.
It was a place that Zaabi felt held no future for his growing family. So he asked Nadine to make the trip. She agreed, once the baby had been born.
"I want to go to Germany. I want a good life for my family," Zaabi told DW in broken English, his voice cracking. Their oldest boy Ahmed played with a red balloon, oblivious to his parents' exhaustion. The baby, bundled in a donated blanket, slept on the ground next to Nadine.
Although the trip had been arduous, the end was in sight, almost literally. Hours earlier they had reached the Salzburg quarters that on this sunny November day served as a waiting area for nearly 2,000 people, mostly from Syria and Afghanistan, seeking new lives away from "Islamic State" bombs and Taliban stonings.
Now they just needed to sit tight on an asphalt ground until it was their turn to walk across a bridge over the Salzach River that serves as a border.
Orderly process
Sea-foam green buses arrived at irregular intervals at the Alte Autobahnmeisterei Salzburg, an old highway administration grounds a stone's throw from the A1 freeway.
The buses drove through a metal barrier into the makeshift transit zone that is guarded by Austrian soldiers. The new arrivals were asked to queue in a line that snakes around more metal barriers that eventually leads them into the old 1950s-era red brick building.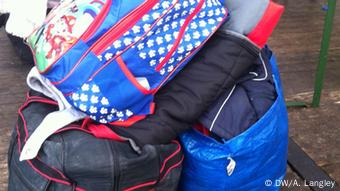 Everything they own
Kaasim and Nadine and their family arrived shortly before 1 p.m. Little Ahmed jumped off the bus, eager to move around after the three-and-a-half-hour bus ride. He carried with him a blue backpack with all his possessions. Nadine carried the baby while Kaasim held two full duffle bags, which the young man guessed weighed about 16 kilograms.
"This is the future of Syria," he said proudly, pointing to the baby as the family waited in line. He smiled.
At the end of the line, each person, including the children and babies, received a white paper armband - the kind you get when you enter a rock concert. Each bracelet had a letter of the alphabet written on it.
Volunteer translators explained that when their letter gets called that group of perhaps 40 people can then board a second bus that takes them to the Austrian-German border.
"They get the bands so that it can be an orderly process for them to be brought to the German border," Major Gerald Gundl of the Austrian army, who was overseeing the process, told DW.
Salzburg's mayor, Heinz Schaden, said the system developed with German officials is well-oiled. "At the moment, we have a very good cooperation with the Germans," Schaden said. "We can tell them always how many people have just arrived; how many people in the next hour will be taken to the border. They are always informed about the situation here and the other way around."
Cold November air
After receiving their bracelets, the family walked across a small path to a line of giant white tents erected across from the administration building. Inside the largest are rows of green metal cots. Gundl said everyday the Austrian army helps to keep the camp, which can hold around 1,000 people, clean and tidy.
They need to. Nearly every night they are filled. The tent has a heater, which clearly isn't enough to warm the place entirely, but Gundl said that with body heat, the space is comfortable enough for one night.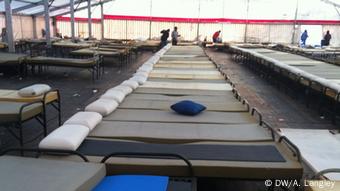 Better than sleeping out in the open
Kaasim came back empty-handed. The line was long with hundreds of people waiting to be served lunch. The tent, away from the warm November air, was chilly. The family decided to mark the time outside in the sun along with many of the other 816 people who were there at 1 p.m., waiting until the letter on their bracelets got called.
"My family is hungry. My family is tired. My children are very cold. My legs can't take this," he said.
So they sat on the asphalt ground and waited.
Welcome to Germany
Eventually Saad, an Afghani asylum seeker who volunteers as a translator, called the letter Q. Dozens of refugees stormed the metal gates that, when opened, would lead them to the bus taking people to the German border. People with Ws and As were pushing to get on, even though it was not their turn.
A few more volunteers - recognizable by their bright orange safety vests - helped keep the crowd back. Everyone was polite, but impatient. Kaasim, Nadime and their family remained seated. It was not their turn yet and by now they had been waiting for four hours.
More white tents greeted the lucky migrants who made it to the border crossing. Volunteers separated the group of about 50 people into smaller clusters.
Then, a volunteer called the first group. The asylum seekers picked up their battered duffles, backpacks and shopping bags. The woman with the orange vest pushed out the metal barrier and the group walked over a narrow bridge.
In the middle of the concrete overpass, a tall policeman in a blue uniform and beret waited for them. He smiled when the group, mostly women and children, assembled in front of him.
"Welcome to Germany," he said.