It has been quite a working life for Ines Spanier. The 52-year-old from the German state of Saxony worked in the former East Germany as an agricultural engineer for a huge, state-owned production co-operative. As you might expect, entrepreneurial freedom was not part of her job spec.
A future as a budding digital entrepreneur did not look very likely back then.
Yet she entered the e-commerce world a few months ago and sells her goods via Amazon, eBay and her own online shop. "Everything is so fast," she says. She can barely keep up with the names of all the new staff working for her. She has just hired a student to help with the digital side of things, hot on the heels of two other new recruits a few weeks ago.
Read more: Female entrepreneurs tackle diversity problem
Her business is still agriculture. Her firm Farmtex specializes in producing different types of film and layering for the agricultural industry. She has done this for many years, but before it was with just a few employees and was conducted very much in the old-fashioned way. The digital world was not her realm but then one day she realized the opportunities it provided for her company.
"I knew I had to change something. To keep going the way we were was not going to be enough. It all seemed too boring but then I heard about the 'Female Entrepreneurs of the Future' project," Spanier told DW.
Amazon's interest
The initiative was launched by the Association of German Women Entrepreneurs, the international network group Global Digital Women, the Brigitte Academy and Amazon. Female entrepreneurs that employ less than 20 people can apply, and if selected, will receive extensive e-commerce training for six months or more. There are currently 18 female entrepreneurs taking part. "It is important to us that Germany takes a leading role in digitization. And we can all do this together. Women are perfectly prepared for entrepreneurship in the digital age, where creative ideas, experimentation and a strong focus on customers are important," says Christian Blum of Amazon Germany, supporters of the project.
But does the Amazon connection mean the businesses involved are then beholden to the internet giant? After all, many of their products are subsequently offered on Amazon Marketplace. Spanier laughs at the question.
"Do you mean do I only sell on Amazon?" she asks. "Of course not!. I now have my own online shop and also use other digital platforms. But the training, the talks with the coaches and the opportunity to use Amazon's logistics helped me a lot at the beginning."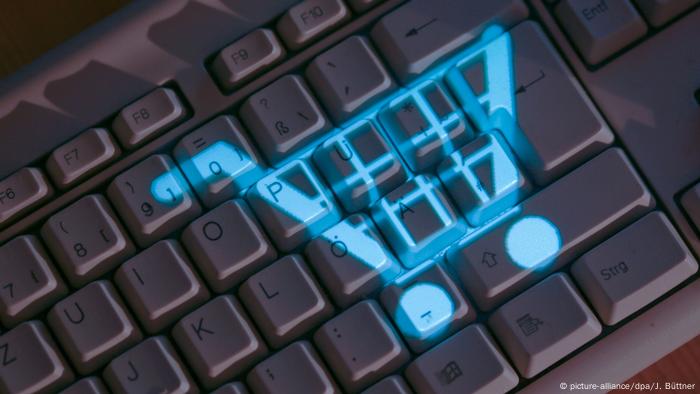 She's in fashion
Nilce Schlegel-Palmisano agrees with all of that. The 34-year-old Brazilian has established her own pants brand called Malucas. At first, Schlegel-Palmisano — who is based in Baden-Württemberg — only sold a few pairs of pants a day but then she took part in the program.
"Before, it wasn't possible to find me on the internet. Through the program, I learned how to establish a brand in a digital way. It was exhausting, but today if you type in 'Malucas', I'm at the top of Google," she says, beaming with pride.
Read more: Report highlights lack of female leaders in German business
The young businesswoman apologizes for being constantly on her mobile phone. "I have my own Instagram channel, a Facebook page, the website, and I'm in constant contact with my customers," she says by way of explanation. In the five months since she went digital, she has sold as many pants as she did the previous year and now employs three people.
The Swede smell of success
"The Internet offers so many opportunities for female entrepreneurs" enthuses Anna Nordlander, who is involved as an expert in the project. The Friendly Swede is the name of a company whose digital offerings she has worked on for years. Among other things, they sell bags designed by Swedish designers. Now Nordlander wants to pass on the benefit of her experience.
However, moving into the digital world is not easy. "What works today may not work in three months," she emphasizes. "You have to be very, very fast."
This doesn't put Ines Spanier off. She is already working on building another brand online. Aimed at people cultivating their own gardens, she has already started testing products for the new online shop.