Acute competition in the e-commerce space in recent years has driven online shopping firms to devise increasingly innovative strategies to win over customer loyalty and turn one-time buyers into regular customers.
To draw the attention of customers, for instance, companies are increasingly focusing on packaging, among other things. "There is a lot of brainpower behind the design of the packaging," explains Angelina Cimino of the German online shopping firm Odernichtoderdoch, which sells stationery, postcards and other gift items. Everything has to be perfect and even little things are very important, she told DW. But the effort doesn't stop at packaging.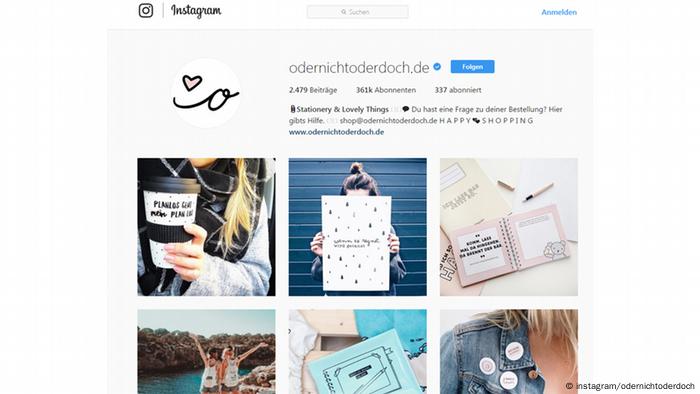 Odernichtoderdoch maintains a presence on Instagram, answers queries promptly and gives its customers the opportunity to get deeply involved in design ideas.
A certain something
Exhibiting products online, selling, packaging and shipping — that used to be how e-commerce worked before, but it's not so simple any more, particularly at a time when giants like Amazon are looking to conquer each and every segment of the market.
"The business climate is highly demanding now," says Gero Becker, project manager at the Institute for Trade Research (IFH) in Cologne. "The big e-commerce firms are continuously raising the bar and bringing new innovations to the market every day. The demands of customers are also growing rapidly," he told DW, noting that these developments were making life difficult for smaller businesses.
Running a "good online store" is no longer enough. A well-structured website on which the customer easily finds his way, appealing product images — preferably high-resolution ones and in several settings — and commonly used payment methods are no longer sufficient to make a business stand out, experts say. "These are now basic requirements for an online store," says Becker.
Read more: Amazon in German court battle over search results
Then what makes an online store attract customers and resist competition from the likes of behemoths such as Amazon and Zalando?
"There's no industry that hasn't been affected by e-commerce," Becker believes. But the degree to which they are affected varies from sector to sector, the expert added. E-commerce growth has been exponential in segments such as fashion, consumer electronics and leisure products.
But others like the fast-moving consumer goods (FMCG) are also catc hing up. "We see that the big players like Amazon Fresh or Rewe Online are starting to develop the market, and they are also seeing great potential," Becker points out.
Difficult to operate
Still, many companies find it difficult to penetrate the highly saturated online markets. Becker instead argues in favor of selecting a niche. "If I manage to sell very unique products through my online store, which do not exist on the big platforms, then I have a much better chance of succeeding on the market."
That's exactly what the founders of the online shop Elbenwald thought — and they specialized in a niche market. When they realized in 2000 that there were hardly any "Lord of the Rings" products to buy, they decided to close the market gap. Today, in addition to the online shop, there are 35 stationary shops throughout Germany — and the product range has also been greatly expanded: from Harry Potter to Marvel products.
"If we want to be successful on the market, we have to maintain high standards. Long-term success is far from being assured if one offers purely stylish but low-quality products," says Annekathrin Graber, Elbenwald's spokesperson.
Knowing the customers well and establishing good relations with them are also key to developing customer loyalty, she notes. "We also know very well what our customers like — we believe we have an advantage over providers like Amazon and Otto, whose customer base is much broader."
Read more: Online shopping on the rise in Germany
Allying with the giant
Elbenwald sells some of its products through Amazon. But this arrangement makes it difficult for the company to establish contact with its customers. "The name of the individual retailer often does not appear on the product — even though, as a supplier, you would like to keep your own name," say Gräber. "When you sell on Amazon — or engage in e-commerce — if you do not work hard, like a madman, then you cannot make it and you get eaten." In his view, Amazon offers businesses advantages, but also makes them dependent on the platform.
It's extremely tough for a brand to market itself as an independent store and win over customers. "The customer who buys on Amazon is the customer of Amazon. It's not my customer. The dealer does not appear there," says Gräber.
Instead of choosing to partner with Amazon, some firms opt to do business with regional e-commerce companies. The platform Online City Wuppertal, for instance, has given a chance for retailers in the city to set up and expand their presence online. As a result, some retailers have seen their sales grow.
Markus Kuhnke, a retailer colaborating with the Wuppertal platform said: "We've learned that we don't compete among ourselves. Instead, our competitors are the big e-commerce companies like Amazon and eBay. If we don't come together, they will shake us up."