Kindberg and Heilsbronn don't sound like the kind of places from which to start a rebellion against a global empire. Neither are foot reflexology mats nor waterproof bicycle bags the kind of things over which such battles are normally waged.
But those who think along those lines probably haven't reckoned with the pluck of German (and Austrian) mittelstand, the small-and-medium-sized enterprises that have come to represent a particularly Teutonic brand of economic ingenuity.
Ortlieb Sportartikel, the waterproof bicycle bag maker from the small town of Heilsbronn, Germany, and goFit, the mat-makers from Kindberg, Austria, are taking on Amazon, the world's largest online retailer and source of the fortune of the world's richest person, Jeff Bezos, in two separate cases in Germany's highest court.
The two firms object to the way Amazon handles customer searches and the way in which users' requests for Ortlieb or goFit products can lead to results featuring rival products.
The court cases began on Thursday morning at the Federal Court of Justice in Karlsruhe, the supreme court in all matters of criminal and private law in Germany.
Selling or misleading?
The firms object to the way in which their brands and product names are used by Amazon, claiming that the retailers' search function is misleading consumers, particularly in directing them towards brands and products that they have not searched for.
In the goFit case, the Austrian company says that when entering search terms related to its brand into the Amazon search engine — including shortened letter sequences closely related to its name, for example "gofi" — products from rival companies show up in the results, and not goFit products. They feel this is a breach of their brand rights.
"Amazon wants to mislead users with its search suggestions and make them believe that the goFit health mat is on Amazon, which it is not," said Arthur Waldenberger, the firm's lawyer. "Amazon is clinging to the good reputation of goFIT," he added.
Resorting to type
Ortlieb's case is based on a similar premise — that searches for its products on Amazon websites lead users to see offers from other manufacturers, both organized through Amazon offers and through offers from third party sellers.
Ortlieb does not offers its products directly though Amazon, but instead has a specific distribution system tailored to meet its own needs. Sometimes their own products show up on Amazon via third party owners.
Read more: Why book stores are thriving in socially conscious Berlin
Ortlieb sales manager Martin Esslinger says the firm has had their own selective distribution system for seven years now. "We see our product as a quality product with a high need for direct customer interaction," he says.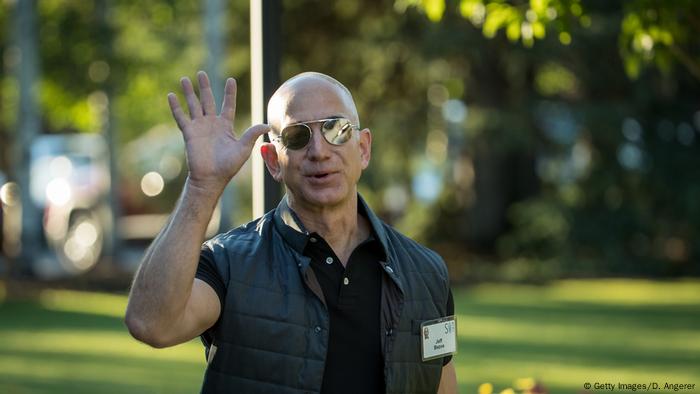 Amazon CEO Jeff Bezos is the world's richest man.
The firm claims their brand has a clear identity and authority and that those who search for it are looking for it and it alone. "Otherwise they would only type in 'bicycle bag'," he says.
The Franconian firm sees the Amazon search results as a violation of its brand rights.
Verdict awaited
The cases against Amazon have already been heard at lower courts.
In the case of Ortlieb, two Munich courts both sided with the bicycle bag manufacturer, agreeing that the nature of Amazon's search results had shown that the retail giant was using the Ortlieb brand, within an Amazon search algorithm, to showcase the products of other companies.
Amazon appealed the original decision in a higher Munich regional court and are now seeking annulment in the supreme court.
With goFit, a lower Cologne court originally sided with its claims but Amazon appealed and won in a higher regional court. goFit has therefore chosen to take the case to the highest court.
The verdict of the Karlsruhe court on both cases will be eagerly awaited and could have significant implications for the way in which online retailers, such as Amazon, use algorithms to sell products.
aos/hg (dpa, AFP)