Some 60 refugee supporters gathered outside Munich airport on Monday to protest the German government's deportation policy.
Authorities on the scene said the rally, which was organized by Bavaria's refugee council, ran peacefully.
While Germany deported a record a number of failed asylum seekers in 2016, it is only this year that the government has begun sending Afghan back to supposed "safe" regions within their homeland. Critics and opposition lawmakers protest that there are no safe areas in Afghanistan. Just last week, a Taliban attack on a military compound in northern Afghanistan killed around 140 people and in injured more than 160.
The German refugee aid agency Pro Asyl called for Monday's flight from Munich to Kabul to be cancelled immediately.
Among the protesters on Monday was Margarete Bause, a Green party lawmaker in Bavaria's assembly, who described the most recent round of deportations as a "political and humanitarian scandal" given last week's Taliban attack. Bause called on German Foreign Minister Sigmar Gabriel to revise the German government's security assessment of Afghanistan and immediately suspend its deportation agreement with the country.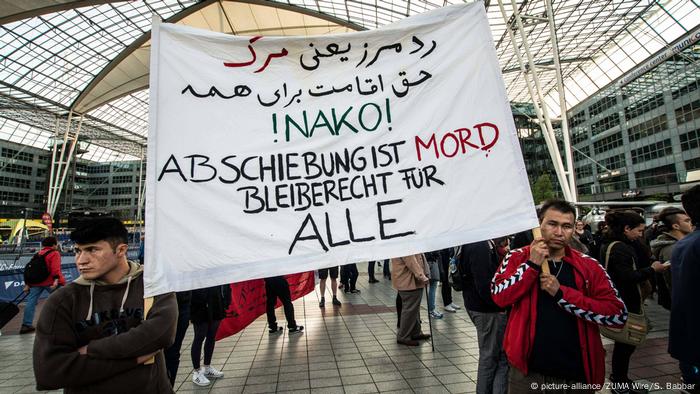 Protestors in Munich cry out: "Deportation is murder."
Germany's tougher stance on migrants and asylum seekers
German Chancellor Angela Merkel has called for sped up deportations of failed asylum seekers amid heightened security concerns following last December's terror attack on a Berlin Christmas market, perpetrated by a failed asylum seeker from Tunisia.
The chancellor is also running for reelection in September this year and has come under fire for her open door asylum policy that saw almost a million migrants enter Germany in 2015.
In mid-December, as the Bundestag voted in favor of sanctioning the deportation of rejected Afghan asylum seekers, Interior Minster Thomas de Maiziere defended the policy, saying that "such repatriation measures are correct and necessary in order to keep our asylum system functioning." Many of the failed asylum seekers targeted for deportation also had criminal records in Germany, he added.
However, in February, the state of Schleswig-Holstein defied the government's deportation order on "humanitarian grounds." The decision was spurred by a report published by the United Nations High Commissioner for Refugees that month revealing that there had been a record number of civilian casualties in Afghanistan in 2016, with almost 3,500 killed and 8,000 injured at the hands of the Taliban and other extremist groups.
dm/bw (dpa, Bayerischer Rundfunk)