Germany needs to reassess its integration policy, the Bundestag's human rights commissioner, Bärbel Kofler (SPD), said on Saturday, amid growing concerns over the deportation of rejected Afghan asylum seekers back to their home country.
"The situation in Afghanistan hasn't changed," Kofler told the German "Passauer Neue Presse" newspaper. "Rather, it's the domestic political situation here that has changed. People shouldn't be the ones carrying the burden of this upheaval."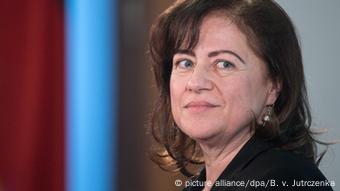 Kofler: People should not bear the burden of Germany's domestic political upheaval.
Of the 250,000 Afghans living in Germany, 11,900 have been asked to leave the country since mid-December, according to the German Interior Ministry. The policy has prompted outcry and protests across Germany, as large parts of Afghanistan remain violent and under Taliban control. The country is not on Germany's official list of "safe countries of origin."
"The security situation in Afghanistan may vary from region to region, but one cannot say that the situation anywhere in the country is particularly good," Kofler said.
She also indicated that many Afghan asylum seekers, legal or otherwise, had integrated successfully in Germany and "found their place in society." They, and the Germans who have supported them, cannot understand "why they are suddenly being torn away from their homes," she said.
The issue of deportations has put the federal government at odds with some states. While deportations are a state matter, the federal government has made clear that it wants to play a bigger role in them. German Chancellor Angela Merkel's CDU party has been pushing for speedier repatriations of failed asylum seekers following December's terrorist attack on a Berlin Christmas market.
Last week, Merkel agreed to a 16-point plan with German state leaders that would see the creation of a central coordination center in Berlin, as well as federal deportation centers near airports that would facilitate collective deportations.
However, on Tuesday the state of Schleswig-Holstein announced that it would immediately suspend deportations back to Afghanistan on "humanitarian grounds."
dm/rc (AFP, dpa, KNA)