DW: Mr. Arnold, how has political pressure for more deportations affected you and your city of Schwäbisch Gmünd?
Richard Arnold: We've noticed that a real competition between the states has been taking place. For me, this is all too general and happening too quickly. At the moment, we have 213,000 asylum seekers who are obligated to leave the country and many of them who came here four years ago are well integrated. And now, the ones that are already integrated are supposed to leave. No difference is being made between the people. It can't go on like this.
Are too many or too few refugees being deported now?
The wrong ones are being deported. The ones being deported are the ones people can reach and they are easy to find because they live normal lives. It affects people who went to school here and who have obtained qualifications.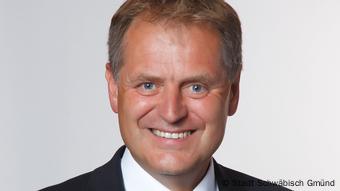 Arnold is mayor of the city of Schwäbisch Gmünd
Among them are a number of people who are truly integrated and are paying into state health insurance and pension plans. Not long ago, for example, a workman came to me who paints buildings and has a refugee from Nigeria working for him and this person has settled in wonderfully. Yesterday, he received the rejection letter for his asylum application. The company is losing one of its best workers. Yet he could continue living and working here.
Do asylum laws allow for exceptions if the process has taken too long?
No. Applicants can only be recognized as refugees if they have been politically persecuted. That is fine but people who are well integrated should be considered. We must be able to build bridges, even for the short term. After all, when the influx of refugees began, our municipalities and citizens were strongly urged to do everything possible to integrate the people. Now, the people who fit in our society are to be torn out. The decent ones should not be the losers.
Do other cities and German states agree with your assessment?
Yes, everyone involved in all different positions does, from Bavaria to Schleswig-Holstein. The problem is that the integrated people whose applications have been rejected often receive a formal notice asking them to leave the country within 30 days or even a week. They can lodge an appeal and they can sue but they are usually dismissed.
What kind of clout do you have as a municipality?
We have none. The only option that remains when all legal means have been exhausted is to take the case to a hardship commission or petitions committee at state parliament. Right now, the applications are piling up at hardship commissions across the country. It was supposed to be for exceptions but now it has become normal for those who are integrated.
For example, we helped a Nigerian asylum applicant at the hardship commission. He completed an entire training program as a geriatric care worker and also a training program as a firefighter. There must be incentives for people who work here. How else can the people who have come here develop a positive attitude towards our country? There is no transition from asylum-seeker to immigrant. Sadly, an immigration law is missing.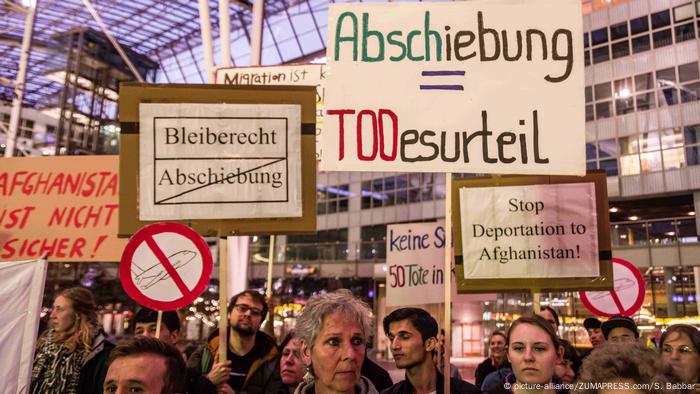 Protests against the deportation of asylum-seekers were held in Munich
You demand that more decisions be made locally because you know the affected people personally and you argue for what you call an "immigration traffic light." How would that work?
It is like a stoplight with red, yellow and green lights. Applicants who are already integrated and who can at least partially support themselves financially would get a green light. If their asylum applications were rejected, then we, as municipalities, could say that they should nonetheless be allowed to stay. Then the sword of Damocles, i.e. deportation, would not be dangling over their heads. Anyone who has built up prospects and contributed to society should be rewarded for their efforts.
Everyone else would have to leave. The system has been accepted by our citizens. Politically, it would be relatively easy to implement. It would complement existing integration laws. We must discuss this within my party. I am in touch with the minister of the interior of the state of Baden-Württemberg and I am trying to convince him that we, the municipalities, be involved in asylum decisions.
Richard Arnold (58) is a member of the conservative Christian Democrat Union (CDU). Since 2009, he has been the mayor of Schwäbisch Gmünd, a city in the southwestern state of Baden-Württemberg with a population of 60,000.
The interview was conducted by Wolfgang Dick.