German charities and refugee advocacy groups on Wednesday condemned the German Cabinet's draft legislation intended to accelerate deportations while refugee helpers in Bavaria protested the eviction of 18 rejected Afghan asylum seekers to Kabul.
The men arrived in Kabul on Thursday morning.
In a joint statement, 20 of Germany's charitable and refugee organizations accused Chancellor Angela Merkel's grand coalition cabinet of overlooking applicants, especially children and youth, warning that holding them in "first reception centers" would deny them schooling.
Pro Asyl (Pro Asylum), a Frankfurt-based organization backed by churches, described the 15-point legislative packet of Chancellor Angela Merkel's cabinet as a "brutalization" of deportation practices - away from individual assessments and recourse to appeal.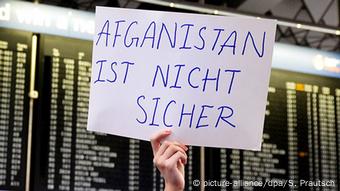 "Afghanistan is not safe," insist pro-refugee groups
The German Bar Association, comprising 66,000 - or 40 percent - of all German lawyers described the Cabinet's extended detention grounds for persons regarded as potential terrorists or "Gefährder" (dangerous people) as "illogical and unnecessary."
Already, under exceptional circumstances, detention of up to 18 months was possible, it said.
Mannheim court intervenes
Baden-Württemberg state's top administrative court in Mannheim on Wednesday intervened to stop two individual expulsions of rejected asylum applicants.
One involved a father of Afghan and Turkish nationality with 16 years' residence in Germany and whose family includes a 14-year-old disabled son. Still pending is his appeal against his rejection by Germany's BAMF migration and refugee agency.
The second case involved a suicidal woman facing deportation to Macedonia, who was supposed to be met by a doctor on arrival at Skopje's airport.
The court found that German authorities had failed to ensure the woman's safety because the only response from an official email sent to Skopje was a computerized chit that had been created automatically.
Protest at Munich's airport
At Munich's international airport, 300 protesters led by Bavaria's charitable Council for Refugees decried the deportation flight to Kabul, Germany's third group expulsion since late last year.
On board, according to Bavaria's interior ministry, were 18 rejected asylum seekers from various German regional states - five from Bavaria, four from Baden-Württemberg, four from Hesse, two from Hamburg, two from Saxony-Anhalt and one from Rhineland-Palatinate.
The men arrived at Kabul International Airport on Thursday. So far, 80 Afghans, all men, have been sent back to Afghanistan after the German government rejected their asylum applications.
Among those who have been deported in recent months is 23-year-old Atiqullah Akbari, who in early February suffered shrapnel injuries in a militant attack in Kabul, two weeks after he arrived back in Afghanistan.
Council spokeswoman Jana Weidhasse demanded a stop to all deportations "throughout Germany" to Afghanistan.
Another council member, Nadine Kriebel,referring to a UN assessments, said there was "no secure region in Afghanistan."
Ministry figures 'inflated'
Parliamentarian Ulla Jelpke, internal affairs spokesman for the ex-communist Left party, accused the ministry of Federal Interior Minister Thomas de Maiziére of fabricating "far too high figures" to suggest urgency for the deportations.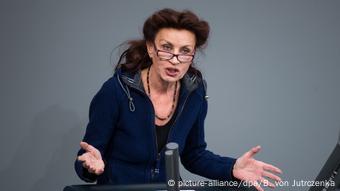 Ministry figures inflated, claims Jelpke
De Maiziére, himself, said Germany expected a high number of rejected asylum applicants who had an "obligation to leave" and that necessitated the action plan agreed by the Germany's federal and regional governments on February 9.
'Clear' expulsion intent, says CSU
Andreas Scheuer, the general secretary of Bavaria's hard-line governing Christian Social Union (CSU) party, said Germany's 16 regional states and federal government must uphold a "clear" agreement to proceed with expulsions.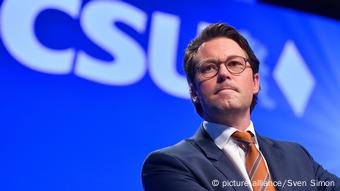 Expulsion intent of German authorities 'clear,' says Scheuer
He accused several regional governments of "legal breaches" because these Länder, whose cabinets comprise opposition Greens, the Left and Social Democrats, had refused to take part in group deportations.
"We are still combating the delayed effects of the mass immigration," said Scheuer, referring to the 890,000 asylum seekers who reached Germany in 2015 along the now-closed "Balkans route." A further 280,000 arrived last year.
ipj/rc (epd, KNA, dpa, AFP)