People who sought asylum in Germany have to wait an increasingly long time to find out whether they will be allowed to stay, German media group Funke reported on Thursday, citing data released by the interior ministry.
In 2016, asylum applicants had to wait 7.1 months on average to find out whether their request would be granted. In the previous year, the Federal Office for Migration and Refugees (BAMF) only needed 5.2 months on average to process asylum paperwork. In the fourth quarter of 2016, the average waiting period was even longer – 8.1 months.
"This is completely unacceptable for the people affected and a great burden on integration," Ulla Jelpke, the Left party's spokeswoman on domestic policy, said. The data was collected in response to a parliamentary request by Jelpke and her party.
Long waits for Somalis, Turks, Russians
The number of people who had to wait significantly longer for a decision was also on the rise: in late 2016, close to 59,000 asylum seekers had been waiting more than a year and a half for a decision; in late 2015, it was only 46,000 people.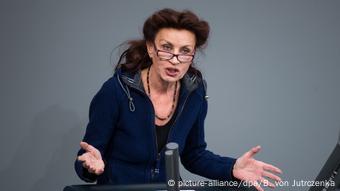 Ulla Jepke of the Left party called the waiting periods for asylum seekers 'unacceptable'
Longer waiting periods are likely due to a rise in the number of applicants. While the number of people who entered Germany seeking refuge in 2016 was lower than in the previous year, the number of asylum applications was still on the rise. That's because many people who arrived in 2015 made their applications in 2016. BAMF registered roughly 746,000 applicants in 2016, almost 270,000 more than in 2015. The agency is currently dealing with a backlog of some 430,000 unprocessed applications.
Upon taking up the leadership of BAMF earlier this year, Jutta Cordt described processing that backlog as a "challenge."
The time BAMF needs to rule on an asylum request varies widely depending on the applicant's country of origin. People with the longest mean waiting period came from Somalia (17.3 months), Turkey (16.3 months) and Russia (15.6 months). Syrians - the largest group of asylum seekers in Germany- had to wait 3.8 months.
These numbers do not include the time the asylum seeker spends in Germany before filing their petition - on average 5.9 months last year. The average asylum applicant thus spends just over a year in Germany before finding out whether they'll be allowed to stay.
More minors rejected at border
The report from the interior ministry also revealed that close to 8,500 unaccompanied minors entered Germany seeking refuge in 2016. More than 600 were sent back by border police immediately. This stands in stark contrast to the previous year, when only 31 unaccompanied minors were rejected at the border.
The Left's Jelpke said the practice of sending back underage asylum seekers was a "scandal and completely irreconcilable with the request to prioritize the welfare of children in the UN Convention on the Rights of the Child."
The German federal administration has recently tightened the rules for asylum seekers, making it harder to enter and seek asylum in Germany amid both growing resentment in some political and community spheres against refugees and migrants and protests against deportations. On Wednesday, Chancellor Angela Merkel's cabinet approved a package of measures that will accelerate the deportation of rejected asylum seekers.
mb/se (AFP, dpa, KNA)