Germany's federal public prosecutor confirmed on Wednesday that he would formally probe the US intelligence agency, the National Security Agency (NSA), for its monitoring of Chancellor Angela Merkel's cellular phone. Less than a week ago, it appeared that the case would be dropped, a situation that prompted considerable criticism in parliament and the domestic press.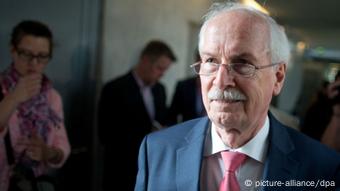 Range briefed parliamentarians on his plans
Federal prosecutor Harald Range briefed a special parliamentary committee on Wednesday about his preliminary investigation, telling them a formal probe would be launched. Range later told reporters that more general observation of ordinary citizens remained an issue his office was examining, but said there were currently no grounds for a formal investigation.
Media reports on Tuesday in Germany said that an investigation would go ahead.
US State Department spokeswoman Marie Harf said US President Barack Obama discussed the allegations "in depth" with Merkel when she visited Washington in April.

"We believe it's important to talk about this in the diplomatic channels,"Harf told reporters on Wednesday. "I think that's probably the most appropriate venue."
German Justice Minister Heiko Maas denied suggestions that the prosecutors' office was forced to change course and launch a probe following political and public pressure. Maas said in an interview on Deutschlandfunk public radio that Range "laid great importance from the start on … reaching this decision by himself, and indeed according to justice and the law."
However, the Christian Democrat's committee member Patrick Sensburg was critical of some of his colleagues after Wednesday's announcement, saying some politicians were guilty of trying to pressure the prosecutor into the move.
Ströbele: not Merkel, but the masses
Green party politician Hans-Christian Ströbele, an outspoken opponent of NSA espionage and supporter of whistleblower Edward Snowden, said the investigation into Merkel's tapping did not go far enough.
"The main crime that is up for discussion here is the large-scale espionage," Ströbele said, urging prosecutors to continue looking into this issue.
Ströbele, who has visited Snowden in Russia, also said that the former NSA contractor would be a "key witness" for the German prosecutors. Snowden, currently in Russia on a temporary asylum deal, is wanted in the US - rival politicians have often said it would be legally problematic, or perhaps impossible, to bring him onto German soil.
The allegations leveled by Edward Snowden prompted particular outcry in Germany, a country with relatively fresh memories of oppressive secret services both during Adolf Hitler's rein and in former Communist East Germany.
The NSA is believed to have first tapped German Chancellor Gerhard Schröder, Merkel's Social Democrat predecessor, after Schröder resisted former President George W. Bush's calls for war against Saddam Hussein's Iraq. This, coupled with Schröder's close ties to Russia and state energy giant Gazprom, reportedly piqued the NSA's interest, with Merkel effectively inheriting the tapped phone on taking office in 2005.
msh/jm (AFP, dpa)