The pontiff is expected to lead an estimated two million Catholics in prayer during his first visit to the east European country beginning Wednesday.
Francis' trip will include participation in a youth jamboree to mark World Youth Day, a weeklong celebration in the southern city of Krakow. Dubbed the "Catholic Woodstock," it was initiated more than three decades ago by Francis' late predecessor John Paul II, who was born in Poland.
John Paul has achieved cult-like status for inspiring the country to stand up to communist rule. But Vatican watchers have warned that the liberal pontiff should not expect the same red carpet treatment from the country's newly elected right-wing leaders.
No love lost
Many of the Polish church's supporters are aligned with the conservative government, and disagree with Francis' positions on divorce and homosexuality. The pontiff has also spoken publicly about the need to be more welcoming of refugees, another contentious issue that has seen the new ruling Law and Justice (PiS) party oppose European Union plans to share tens of thousands of migrants across the bloc.
Some religion watchers have warned that Francis' progressive leanings may not resonate with most Poles.
Festivities marred by murder
News that suspected Islamist militants interrupted a church service in northern France Tuesday and slit the throat of 85-year-old parish priest Father Jacques Hamel has sent a sudden deep chill over the World Youth Day celebrations.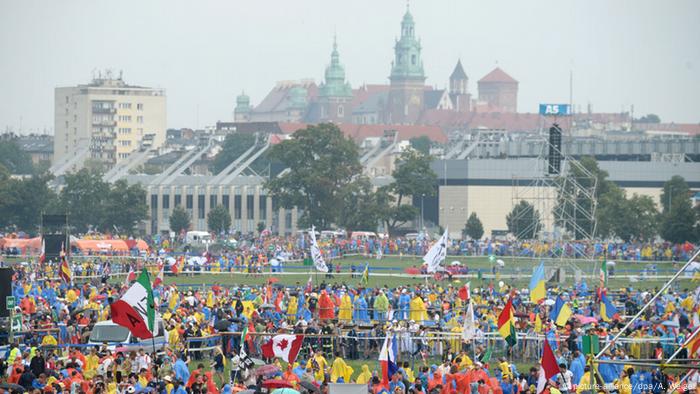 Weeklong events to mark World Youth Day have begun in Krakow, Poland
The event opened Tuesday evening with a solemn open air mass for the victims of recent terror attacks around the world.
Ahead of his visit, the Vatican said Pope Francis was horrified by the "barbarous" act, which happened during the central rite of Christian worship.
Early in his trip, Francis is expected to pay tribute to the murdered priest, who some have said should be declared a martyr because of the way he was killed for his faith.
Francis will also visit the Nazi death camp at Auschwitz, where he'll speak with former prisoners and their rescuers. He'll also pray at Czestochowa, site of the country's holiest shrine.
mm/kl (Reuters, AFP, KNA)