Kaczynski, chairman of the nationalist-conservative Law and Justice party (PiS), has called for reform of the European Union (EU). In an interview with the Frankfurter Allgemeine Zeitung (FAZ) newspaper to be published on Tuesday, the co-founder of Poland's ruling party said that the EU was overall a success but "with the exception of two grave mistakes: the treaty of Lisbon" which significantly expanded the power of the EU in 2007 "and the refugee crisis."
"We have to strengthen the nation states and reduce the jurisdiction of the Union", Kaczynski told FAZ.
On Tuesday, Chancellor Merkel is to meet with Kaczynski, along with Poland's Prime Minister Beata Szydlo, President Andrzej Duda, and Polish opposition leaders. While Kaczynski is currently only a member of the Polish parliament and formally holds no higher office, the former prime minister is among the most influential figures in Polish politics.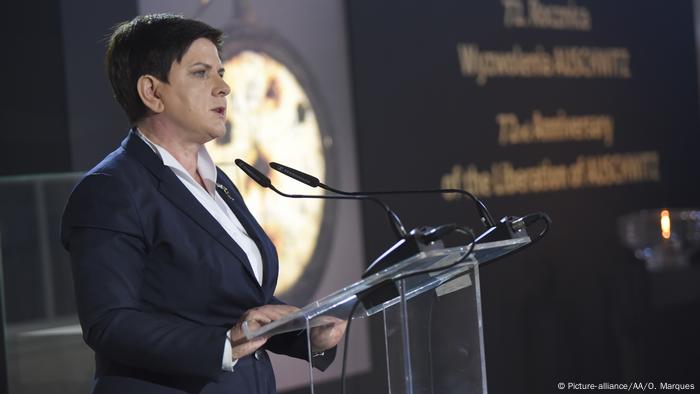 Merkel is due to meet with Prime Minister Beata Szydlo
Kaczynski said that US president Donald Trump was "unfortunately right for the most part" in saying that the EU largely profits Germany. "Merkel is the absolute number one and that's not a healthy situation," he said.
Kaczynski has long been a critic of Merkel's refugee policies. He told FAZ that letting large groups of refugees into Europe would result in a "liquidization of the civilization that grew out of Christianity." He described the chancellor's request for Poland to share the burden in taking in refugees as an "absurd thought" and "totally anti-Polish". He suggested that Poland would be willing to provide help for refugees near their countries of origin.
Kaczynski welcomed the idea of the European Union as a nuclear super power but doubted that the "massive expenses" needed to achieve this would be made available. The EU "would have to be able to keep up with Russia", he told FAZ.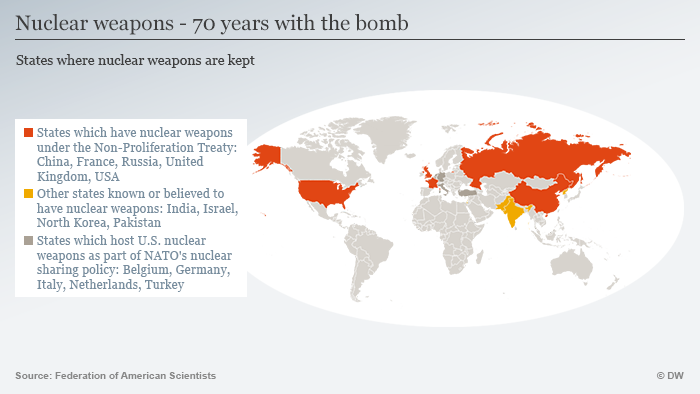 Russia currently has about 7,000 nuclear weapons, while France has 300. Britain has 215 nuclear warheads.
Despite his criticism of the current German chancellor, Kaczynski said that he preferred Merkel to her main opponent in the upcoming German election, Martin Schulz. He was impressed by the way Merkel handled the Ukraine crisis, he told FAZ. His statement came the same day that a newspaper poll in Germany gave the Social Democratic Party a one point lead over Merkel's CDU-CSU bloc. The day Merkel was named official candidate, the SPD was given a 31 percent share of the Insa poll published by mass-circulation "Bild" to the CDU-CSU with 30 percent.
Kaczynski claimed that Schulz "leaned towards Russia" and called him "a leftist ideologue" who had made "anti-Polish" statements. Schulz had harshly criticized Kaczynski's PiS when the party attempted to block three judges being appointed to the Polish Supreme Court in 2016.
mb/jm (AFP, kann)