Poland's decision to beef up logging in the country's protected Bialowieza Forest — a UNESCO World Heritage site — is in breach of European Union law, the European Court of Justice (ECJ) ruled on Tuesday, the eve of World Heritage Day.
"The forest management operations concerning the Puszcza Bialowieska Natura 2000 site that have been undertaken by Poland infringe EU law," the ECJ said in a statement.
The ECJ said that the Polish government must stop logging "without delay" or face financial penalties. Poland said in a statement that it would respect the ruling by the bloc's top court.
The final ruling was in line with a preliminary decision released by the ECJ in February.
The European Commission took Poland to court in 2017 arguing that the forest, that boasts unique plant and animal life, was being destroyed. Logging in the Bialowieza Forest began a year earlier.
Read more: Can the EU save Poland's Bialowieza forest?.
'Huge victory'
The chief executive of environmental organization ClientEarth, James Thornton, said the ruling was a "huge victory for all defenders of Bialowieza Forest, hundreds of people who were heavily engaged in saving this unique, ancient woodland from unthinkable destruction."
"This is not the end of our fight. The ruling is just on paper for now: we need to see concrete action … We believe that this World Heritage site and one of the last primeval forests in Europe deserves it."
"Today is a clear victory for Europe's wildlife," said Andreas Baumueller, World Wide Fund for Nature (WWF) European Policy Office. "Nature cannot be ignored and neither can EU law."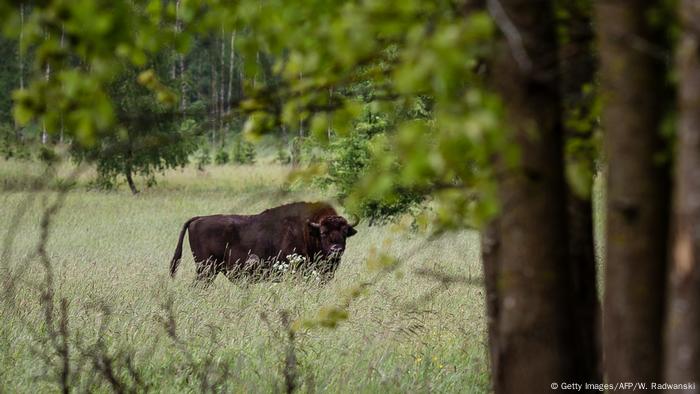 The European bison is among species that make their home in the Bialowieza forest
Read more: In Poland's Bialowieza National Park, the woodchips are flying
Chainsaw massacre
Last year, the EU's high court issued an injunction forbidding Poland from continuing to allow logging in Bialowieza, Europe's oldest forest. But in an unprecedented move, Poland's government ignored the order and continued to allow logging.
The entire Bialowieza forest covers around 60,000 hectares (148,260 acres) in eastern Poland and stretches into Belarus with a total area of about 150,000 hectares. Bialowieza is one of the last remaining parts of the primal forest that once stretched across the northern European lowlands.
Read more: Polish police break up protest against Bialowieza forest logging
Although designated a UNESCO World Heritage site in 1979, only parts of the Polish section of the forest are protected as a natural park, while in neighboring Belarus, the entire forest is protected. After Tuesday's ECJ ruling, ClientEarth's Thornton said the Polish government should consider enlarging the national park so it encompasses the whole of Bialowieza Forest.
Read more: Poland's chainsaw massacre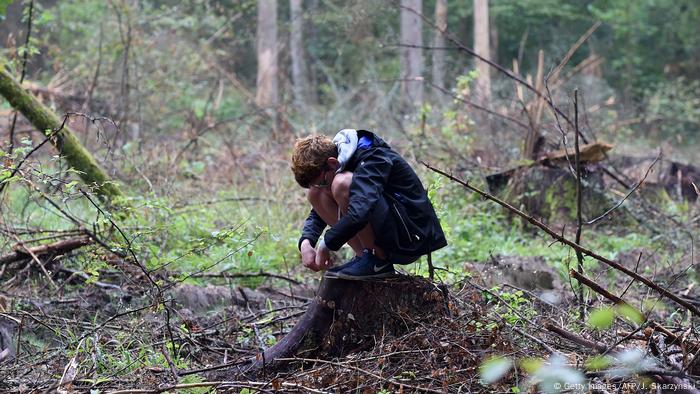 A boy attends a protest against the cutting of trees in the Bialowieza Forest
kw/rc (AFP, dpa)