German conservative chancellor candidate Armin Laschet was in Warsaw on Sunday to commemorate the 77th anniversary of the Polish uprising against the Nazi occupation.
German forces brutally crushed the resistance efforts in 1944, leaving between 150,000 and 200,000 civilians dead.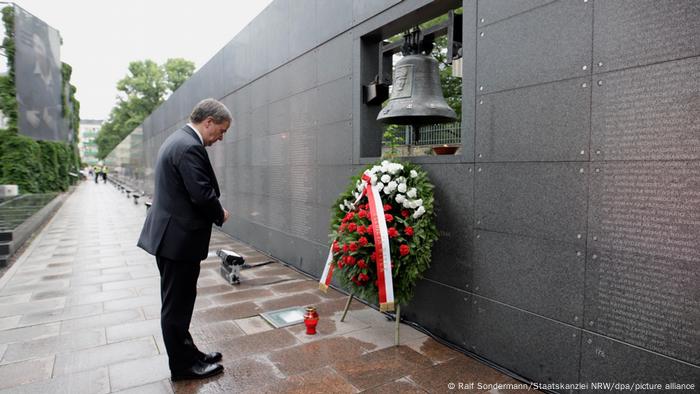 Laschet paid tribute to the tens of thousands of people who died in the Warsaw Uprising
What did Laschet say?
"This is a very special place on a very special day, where one reflects on the atrocities committed by the Germans," Laschet said at a museum dedicated to Poles who died in the uprising.
"You can only learn from history to prevent something like this from happening again," he added.
Laschet met with veterans of the Warsaw resistance, such as 94-year-old Wanda Traczyk-Stawska, during the visit.
Laschet also met with Prime Minister Mateusz Morawiecki, and called for a "pragmatic" solution to the conflict between the EU and Poland over the country's judicial reforms.
A day earlier, Laschet visited a monument to children in Warsaw who died in the city's uprising.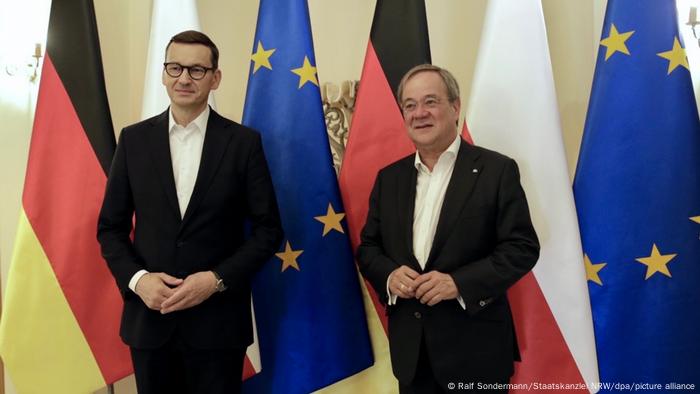 Laschet emphasized the importance of democratic values during his meeting with Poland's prime minister
Germany has 'responsibility'
Laschet told a Polish newspaper that Nazi Germany's crimes against Poland during World War II fill with him "deep shame and humility."
The conservative politician, who is premier of the state of North Rhine-Westphalia and the favorite in the race for German chancellor, said his country has a "responsibility" for Poland.
"Germany must always be aware of its historical responsibility for Poland's freedom and independence," he told the daily Rzeczpospolita newspaper.
At the same time, Laschet said he does not support reparations for Poland, an idea that has been floated by members of the country's right-wing governing Law and Justice party.
What happened during the Warsaw Uprising?
The Warsaw Uprising took place from August to October, 1944. It was an attempt by the Polish resistance, known as the Home Army, to take back the Nazi-occupied capital before the advancing Soviet Red Army could captured the area.
Although the resistance fighters initially managed to take control of most of the city, the lack of outside support, along with German reinforcements, caused the effort to ultimately fail.
Approximately 10,000 resistance fighters and up to 200,000 Warsaw residents were killed during the 63-day uprising. Thousands of civilians in the destroyed city were expelled and sent to Nazi-run concentration camps.
wd/nm (AP, dpa)