As more people move into big cities, children, and subsequently adults, are experiencing a growing isolation from nature. While children have a huge capacity for learning, biodiversity education is falling by the wayside.
But scientists, conservationists, gamers and artists passionate about the natural world are working on a crowd-based ecosystem card game to bring wildlife back into the lives of children, who, they hope, will carry on that interest into adulthood.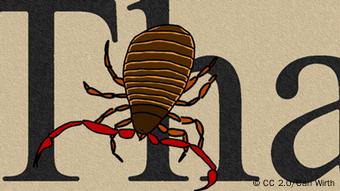 Even species too small to be recognized usually can become famous with Phylo
The aim of the Phylo game, which involves Pokemon-style trading, is to help children learn about plants and animals by using cards with scientifically literal depictions of organisms and their attributes such as habitat, kingdom and diet. It also deals with threats to ecosystems like oil spills and climate change.
Similar to the Pokemon game, Phylo cards contain species attributes players then use to battle their opponents and win points.
"It came from my lab saying kids know more about Pokemon than real animals and then we stepped back," said geneticist and science educator at the University of British Columbia, David Ng, who kick started Phylo three years ago. "Now there's a community of folks from advocacy, science, art, intellectual property, programming and gaming. There's a core game mechanic that has been designed and tested quite extensively in the adult gaming world and in terms of kids using it."
The idea for "Phylomon", as it is affectionately termed by the web community behind it, sprang from a study carried out by Andrew Balmford, a professor of conservation at the University of Cambridge.
The study found that the creators of Pokemon, a Japanese video game that spawned films, a TV show, and a trading card game, were doing a better job at getting kids interested in the Pokemon world than scientists were at getting kids interested in the natural world.
According to his findings, children as young as eight had an astonishing capacity for identifying and categorizing more than 120 different Pokemon characters but left primary school being able to name less than 50 percent of common wildlife types.
Balmford asked whether the Pokemon concept could be applied to teaching children about biodiversity and ecology, and Ng set out to answer that question.
Experiment in education
Although, it's still in a somewhat experimental stage, the game's website now hosts hundreds of cards featuring everything from mammals to microbes, as well as a pre-sorted marine life deck created by the World Science Festival and another deck hosted by the Beaty Biodiversity Museum in Vancouver.
The American Museum of Natural History (AMHM) is also developing a card game involving Pterosaurs – a flying reptile that existed around 228 to 66 million years ago from the late Triassic to the end of the Cretaceous period – using the Phylo template available on the website for those who want to develop their own decks.
Ng says the "holy grail" is every natural history museum hosting decks and releasing expansion packs when they have a new exhibition. He also hopes the game will benefit educators teaching children about biodiversity but says there are challenges to creating such games.
"It's an educational game so there's always this tension between education and fun," said Ng. "One of the biggies is testing it as an educational tool. The thing with games is that they're effective but whether they are more effective than other ways is unclear."
Still, Ng has plenty of anecdotal evidence to suggest the Phylo game could be a useful tool to help children learn about species and establish a connection with their environment.
"There are lots of children who are really into the game and who think the project is really 'cool' but the educational utility is something we want to follow up (with studies)," said Ng. "Hopefully the community has also just produced a fun game whether you want to learn or not but it just so happens that we could engage kids in learning."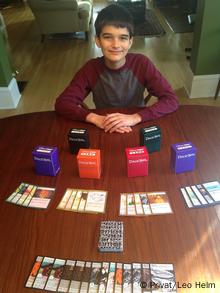 Leo Helm, a 12-year-old from Portland, has been enthusiastically playing Phylomon for a year now
Leo Helm, a 12-year-old from Portland, Oregon, is one of the children who has been enthusiastically playing Phylomon for a year now. Leo, who mainly battles his brother in the game, said he believes the cards could help children learn about biodiversity, especially if they are incorporated into school lessons.
"I'm learning a lot. Before I started playing Phylo, I would have thought that the peacock calanid, a kind of microscopic crustacean, was a kind of disease found only in peacocks," said Leo. "I think kids could learn about biodiversity easily through this, because it can easily be incorporated into science lessons in school."
One of the best aspects of the game for Leo is that it takes natural disasters and human behaviour into account.
"I enjoy that the game can model different situations in nature, such as overpopulation, wildfires, and oil spills and how they can be resolved," added Leo.
Interest in biodiversity must begin early
With climate change and human encroachment on natural habitats threatening species, conservationists and educators hope that teaching kids about biodiversity early might make them more aware as adults of the impact of human behavior on the planet.
"The foundation for an interest in nature and biodiversity is laid at a young age," said Steven Seet from the Berlin-based Leibniz Institute for Zoo and Wildlife (IZW), which is involved in teaching children about biodiversity with the aim of helping to preserve it.
"Walks in the forest, trips to a pond where you might see a little frog, these are all memories from your childhood. And children who have these experiences are more likely to be more sensitive to these topics," he added.
This is evident in the children who join groups such as Greenpeace and the World Wildlife Fund (WWF), says Seet. These children usually remain active members until the age of about 20 or 25 and then return at around 40 once they've settled in their jobs and perhaps started a family, he adds.
Connecting the dots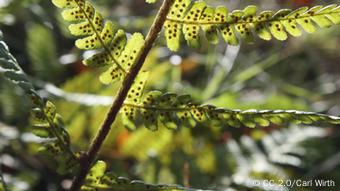 Experts say games like Phylomon can connect kids to the outdoors
The IZW and museums such as the British Natural History Museum (NHM) regularly use educational games and interactive media to teach children about biodiversity. Both Seet and Abigail Tinkler, an educational specialist and Head of Schools at NHM, say it's important to makes games like Phylomon "hands on" and connect them to the outside world.
"If we had a game with Phylo cards, it would have to be something that got the children to look really closely at our specimens and the objects themselves," said Tinkler. "But anything we can do that brings in an element of fun and surprise plays a really powerful part in learning."
Still, many conservationists say the best way to teach kids about biodiversity is to get them outside.
"It's kind of a paradox in the project – if you want people to be more involved in biodiversity issues, there is an argument that the best way to do that is to just go outside, but we've developed a game where you're inside," said Ng.
Children have access to the Pokemon world through their TVs and computers but it is hoped the Phylo project could push children to step outdoors into their own world.
"Maybe there's a way we can leverage the game to get the kids outside," said Ng. "This is where something like an app could come in."