Thousands of PEGIDA demonstrators descended upon the eastern German city of Dresden on Monday evening, to mark a year since their first march through the city.
A local student statistics group, "Durchgezählt," estimated that between 15,000 and 20,000 PEGIDA supporters gathered on Dresden's Theaterplatz on Monday evening.
In a tweet shortly before the demonstration on Monday, Saxony state police said "everything was very emotionally-charged" and asked protesters to "stay calm, so the evening remains violence-free."
An hour into the march, however, German authorities reported clashes between PEGIDA and the counter-demonstration on Dresden's Schlossplatz. On nearby Theaterplatz, there were also assaults on police officers and PEGIDA demonstrators. One protester was reportedly "seriously injured."
'We will triumph!'
Welcoming the crowds on Monday evening, PEGIDA co-founder Lutz Bachmann said he "had goosebumps."
"We came in order to stay and we will triumph!" he said.
A common theme among the chants and placard slogans on Monday was a strong sentiment against German Chancellor Angela Merkel.
"Merkel has to go!" was one of the first chants to be heard. A photoshopped image of Merkel wearing a "Nazi" uniform, with a euro sign instead of a swastika on the red armband, was also seen in the crowd.
Thousands attend counter-demonstration
The anti-PEGIDA demonstration on Monday attracted 15,000-19,000 people, who marched through Dresden's city center on four different routes.
"That's enough! Heart instead of hate!" the crowds were heard chanting. Bringing a little humor to the evening was one anti-PEGIDA placard which read: "Falafel instead of sausage."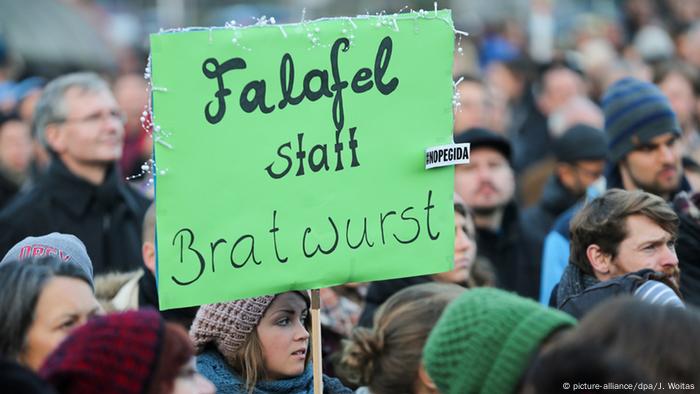 'Hard right-wing extremists'
Speaking in an interview with German public broadcaster ARD on Monday, German Interior Minister Thomas de Maiziere condemned the PEGIDA movement as "hard right-wing extremists" and urged people not to attend the marches.
"Stay away from those people who are injecting this hatred, this poison into our country," de Maiziere said.
PEGIDA, whose name loosely translates as the Patriotic Europeans against the Islamization of the West, held its first demonstration in Dresden on October 20, 2014.
At its peak in January, the right-wing movement attracted a record 25,000 protesters, but numbers dropped dramatically to around 2,000 after a series of scuffles within the movement. Amid growing concern over the German government's handling of the refugee crisis, however, attendance has grown steadily in recent weeks.
ksb/msh (dpa, epd)