Hundreds of thousands of businesses went on strike across Pakistan on Saturday to protest against increased sales tax, which opposition parties say was imposed as part of the government's recent bailout agreement with the International Monetary Fund (IMF).
The strike almost brought the South Asian country's commercial activities to a halt, as stores, shopping malls, commodity markets as well as restaurants remained closed in many parts of the country's urban centers.
In addition to an increased sales tax, authorities are also forcing traders to document all substantial transactions as part of a drive to boost the country's embattled economy.
Read more: Pakistan: Imran Khan announces tax evasion amnesty scheme
After months of difficult negotiations, the IMF approved a $6 billion (€5.32 billion) financial bailout package for Islamabad. The IMF has imposed tough conditions for the bailout, including a commitment to let the market decide the Pakistani rupee rate, rather than have it be protected by the Central Bank. The Pakistani currency has plunged more than 40% in the last year.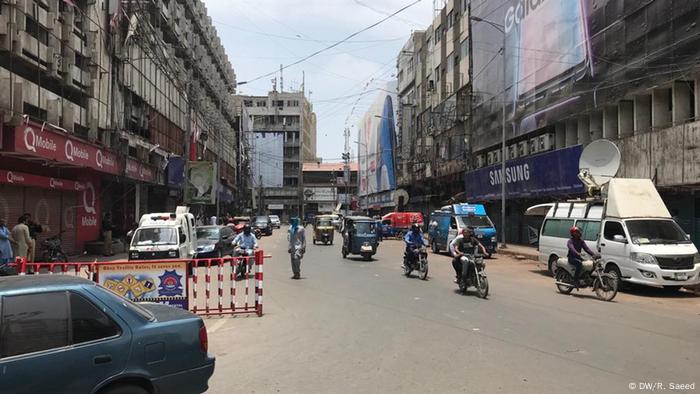 Markets were closed on Saturday due to a countrywide strike by the business community
But many economists say the country's working classes are bearing the brunt of the spike in taxes
Mushahid Ullah Khan, an opposition senator, blamed PM Khan's "ill-conceived" financial policies for the economic turmoil.
However, Shabbar Zaidi, head of the federal tax collection body, said the new economic measures were intended to streamline the economy and widen the tax base.
Read more: Ishaq Dar: Pakistani PM Imran Khan 'responsible for current economic mess'
Growing discontent
The economy of the majority-Muslim nation with a population of over 200 million has slid deeper into crisis since Imran Khan took over as prime minister last year. Burgeoning fiscal and current account deficits and a dip in revenues from tax collection are at the heart of the crisis.
"The IMF deal, with the austerity measures it will entail, will be a political blow to a Pakistani government that had promised to build out a new welfare state," Michael Kugelman, a South Asia expert at the Washington-based Woodrow Wilson Center for Scholars, told DW. "The IMF package will make it quite tough for Khan to achieve his economic promises and therefore undercut the populist image that he has sought to showcase to the electorate," he added.
This view is shared by Kaiser Bengali, a renowned economist in Pakistan. "The IMF has an agenda to privatize the assets of the country, which will lead to massive unemployment," said the expert.
The bailout comes as discontent is already growing over measures Khan's government has taken to fend off the crisis, including devaluing the rupee by some 30% since January 2018, sending inflation to five-year highs.
Khan came to power after winning a simple majority in last year's parliamentary elections on promises to improve the country's economy and provide jobs to people. But his critics say his government has so far not been able to honor his commitment to the masses. A government report published in May also noted that Pakistan's growth rate is set to hit an eight-year low, with the country's GDP rate likely to sink to 3.3% against a projected target of 6.2%.
But some observers say the IMF package will be beneficial to end the growing uncertainty and build investor confidence. "The deal will put an end to uncertainty and improve Pakistan's financial situation," Abid Sulehri, an economist, told DW. "Even though it might have some negative effects, in the form of a rise in inflation, it will produce positive results in the long run."
Political impact
Pakistan's economic woes have piled more pressure on Khan's government in the past few months. Opposition parties and the business community have called for more protests and strikes, which could make governance more difficult for the cricketer-turned-politician.
Read more: Pakistan: Is PM Imran Khan's popularity waning?
Khan, who is set to visit the United States on July 21, is hoping to secure the financial backing from President Donald Trump's administration, which has slashed Pakistan's military and economic aid substantially in the past few years. Washington's possible support to Pakistan could ease Islamabad's problems but will also likely tie it to difficult conditions such as assistance in securing a peace deal with the Taliban in Afghanistan and support in the confrontation with Iran.
But analysts say that a possible uprising against inflation and higher taxes could be a hindrance for Khan to tackle serious foreign policy matters.
Read more: Global terror watchlist: Will Pakistan change its Afghanistan policy?
Every evening, DW's editors send out a selection of the day's hard news and quality feature journalism. You can sign up to receive it directly here.