Eastern Orthodox Christmas rang in across the world on Thursday with celebrations ranging from fireworks displays, church services, processions and religious ceremonies.
As millions of people gathered for formal church masses, refugees and migrants at The Jungle in Calais, northern France, marked the occasion in a makeshift chapel.
As well as Eastern Europe and the Middle East, a large number of Orthodox Christians celebrate the occasion in the Balkans, Greece, Ethiopia and Eritrea.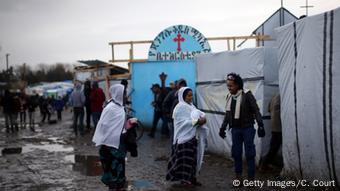 The Jungle's makeshift chapel held a service to mark Orthodox Christmas for migrants in Calais
Famine then feast
Many countries have their own very different traditions but, for most, Christmas is often accompanied by a family feast of several courses.
The date is preceded by a 40-day fast in anticipation of the birth of Jesus, with many traditional followers abstaining from meat and poultry, eggs, dairy products, fish, oil and wine.
Among those celebrating away from home were Russian soldiers taking part in airstrikes over Syria, who attended a service organized by the military.
On Wednesday evening, they gathered in a tent on the Russian air base at Latakia, which was lined with religious icons and strings of purple lights.
Meanwhile, an estimated 350,000 believers took part in Christmas rituals in the Russian capital. Many gathered at Moscow's enormous Christ The Savior Cathedral, led by Orthodox Patriach Kirill.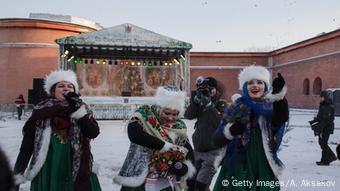 Russian actresses throw grains to wish people 'Happy New Year'
Coptic Christians live in fear
Security was tight for Egypt's Coptic Orthodox Christmas this year, with security services searching through more than 300 churches in the capital Cairo alone, amid fears of renewed attacks by Islamist militants.
The Coptic Christian community has been threatened with retaliation after the Church strongly supported the ouster of the country's first freely elected president Mohammed Morsi in 2013.
Ever since, Christian gatherings have seen regular attacks, amid accusations that Christians had conspired with the military against Islamist groups.
President Abdel-Fattah el-Sissi became only the second Egyptian leader to attend Christmas Mass at Cairo's St. Mark Cathedral on Wednesday night, where he apologized for the attacks.
Orthodox Christmas runs 13 days behind the Roman Catholic Church as the Eastern Orthodox Church kept to the Julian Calendar while Rome changed to the Gregorian Calendar in the 16th Century.