The bottom line of the rambling and inchoate statement about the Jamal Khashoggi case put out by the White House, which read like it was dictated by US President Donald Trump himself, went something like this: The Saudi Crown Prince may well have ordered the vicious killing inside the country's consulate in Istanbul — but guess what, I couldn't care less and I will not let the premeditated slaying of a US-based journalist get in the way of making money off the Saudis and going after Iran.
If anyone else had issued such a statement, he or she would be asked two questions:
Don't you have a copy editor?
Don't you have a moral bone in your body?
For President Trump neither question is relevant. He is seemingly not interested in the finer points of advancing a coherent argument. And he apparently could not care less about even the most basic questions of good or bad.
Transactional president
But being ignorant or unwilling, or both, to differentiate between good and bad does not absolve anyone, let alone the leader of the world's most powerful country, from being called out for behavior that flies in the face of the kind of moral leadership that US presidents used to pride themselves in. Even if they often did not live up to it.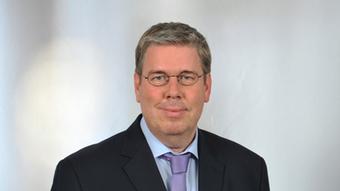 Michael Knigge is DW's US correspondent
Trump is different. He does not even pretend to be a moral leader. As this transactional president made abundantly clear, Saudi money and support for his anti-Iran stance easily outweigh the killing of a Washington Post writer — a newspaper Trump despises. This behavior is of course no surprise, but just another confirmation of what kind of person was elected president two years ago.
Read more: Germany issuing travel bans to 18 Saudis over Khashoggi's death
Getting away with murder
Still, Tuesday's despicable statement ranks among the low points of a presidency teeming with embarrassing, offensive and dangerous rhetoric and actions for a simple reason: It literally lets the Saudi leaders get away with murder.
That's because by all accounts, the luring of Khashoggi into the Saudi Consulate in Turkey, where he was brutally murdered by a Saudi hit team, was so brazen and reckless that it could only be orchestrated after it had been greenlighted by the Saudi top leadership, especially the crown prince.
Trump, by simply disregarding the conclusion of his own and other intelligence services and by refusing to mete out any appropriate sanctions for such an egregious act, effectively condones the barbarism and evil committed by the Saudis.
Worse still, by whitewashing their behavior, Trump is aiding and abetting similar actions by other despots around the world: President Trump turned Tuesday, November 20, 2018 — two days before Thanksgiving — into a dark day for human rights worldwide.
New priority for new Congress
This cannot be tolerated. Like it did with Trump's reluctance to sanction Russia, Congress must step in and act now. And if the lame duck Congress, where many Republicans are still eager not to offend Trump, will not act and level meaningful sanctions against Saudi Arabia, then the new Congress with a Democratic-run House of Representatives must.
Investigating the Trump administration's behavior toward Riyadh and sanctioning Saudi Arabia may not have been the top of the agenda for the new Democratic House next year. It must be now.
Every evening at 1830 UTC, DW's editors send out a selection of the day's hard news and quality feature journalism. You can sign up to receive it directly here.