Bold, combative, emotional - these are not the kinds of characteristics that immediately come to mind when describing the person Forbes magazine named the "most powerful woman in the world." And while delivering her statement on the terrorist attacks in Paris, it's not as if Angela Merkel raised her voice, shook her fist, or had tears in her eyes.
So what's behind all the comments circulating in Germany at the moment about the chancellor reinventing herself?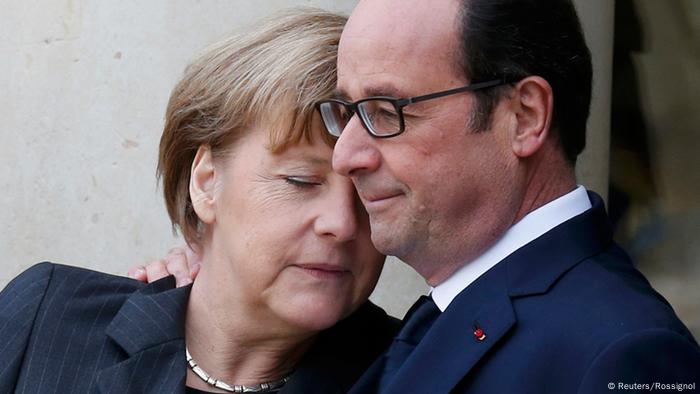 Exhibit A: This photo, taken during the unity march in Paris. The normally cool chancellor, who typically avoids any physical closeness to her colleagues, leans on the French president, eyes closed. She appears tender, emotional. It's been said that nothing in Merkel's appearances is ever left to chance.
Exhibit B: She has demonstratively taken the side of Muslims in Germany. Merkel has expressly echoed a quote from former German President Christian Wulff, who said that "Islam belongs to Germany." This is something new. She didn't confirm Wulff's view when he first made the statement back in 2010, but she has done so twice within the space of four days.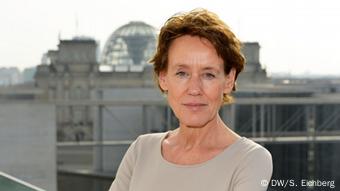 DW's Dagmar Engel
The first time was during the Turkish Prime Minister's visit to Berlin on Monday. She was met with criticism from her own party, the CDU, and its sister party, the CSU, as well as from the American Jewish Congress and many voters. Despite this, she repeated the quote again during her address to parliament.
Exhibit C: Angela Merkel has taken a firm stance with her opposition to the anti-Islamic Pegida demonstrations. She has not shied away from emotional language, speaking of the hatred and coldness she sees in many hearts. She has pointed the finger of blame at every person who participates in a Pegida demonstration.
It's not clear just how many Germans silently support Pegida and its aims, but she appears unfazed at the prospect of losing their votes.
Evidence to the contrary? The chancellor is often accused of reacting to the polls and general atmosphere among the population. Her appearances, her speeches, and her gestures over the past two weeks seem to be telling a different story.
But in reality, Merkel is confirming something that started outside the chancellery in recent weeks: German society has bid farewell to its warm and fuzzy consensus. It is redefining its ideology, taking to the streets in tens of thousands, taking a stand - albeit at times a crude one. And it expects the same from its leaders.
In her address to parliament, Angela Merkel appealed for a return to democratic values. But democracy also means dealing with conflicts, in which one must be able to argue one's point of view. Everyone - the chancellor included - is being forced out of their comfort zones. And it has only just begun.