North Korean leader Kim Jong Un and China's Xi Jinping have held a two-day meeting this week in the northeastern Chinese city of Dalian, official state media from both countries reported on Tuesday.
It marks the second meeting between the two leaders in recent weeks, following Kim's first official visit to Beijing in March, his first since taking power in 2011.
Read more: China supports North Korea's commitment to denuclearization
According to China's official Xinhua news agency, Xi and Kim discussed bilateral issues, with the Chinese president expressing his support of a historic planned meeting between Kim and US President Donald Trump.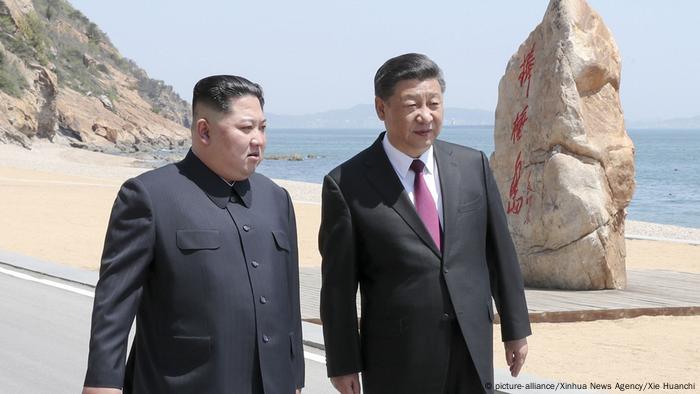 China's Xi Jinping reportedly made clear during talks with Kim Jong Un that he strongly supports North Korea's denuclearization efforts.
Chinese state media broadcast pictures of Xi and Kim meeting outdoors and walking together along Dalian's waterfront.
North Korea has been very cautious over coverage of Kim's summits, choosing to only feature them a day or two after they are over and he had returned to Pyongyang.
Trump welcomes warming relations
Shortly after details of the meeting were released, Trump said that he himself would be holding talks with Xi later on Tuesday. Trump tweeted that they would discuss trade, an area where "good things are happening," as well as North Korea, "where relationships and trust are building."
Trump scheduled summit with Kim is expected to take place late May or early June, according to the White House, although the date and time have yet to be announced.
Read more: Kim-Trump summit: is the world expecting too much from it?
North Korea's denuclearization pledge
A series of fast developments has seen North Korea go from belligerent nuclear power to pledging to shut down its nuclear weapons facilities.
China is North Korea's only major ally, but relations between the two sides plummeted earlier this year as Pyongyang continued to conduct a series of nuclear missile tests. In response, Beijing enforced United Nations economic sanctions that crippled large parts of the North Korean economy.
Kim has since taken his country in a historic new direction by pledging to rebuild relations with the North's regional neighbors, including South Korea.
Read more: Opinion: Hand in hand into no man's land
According to Xinhua, Kim was quoted as telling Xi he hoped that all parties involved in the denuclearization efforts would take "phased" and "synchronized" measures to ensure lasting peace on the Korean peninsula.
"So long as relevant parties eliminate hostile policies and security threats toward North Korea, North Korea has no need for nuclear (capacity), and denuclearization can be realized," Chinese media cited Kim as saying.
Last month saw the leaders of North and South Korea hold a historic summit at their shared border, where they vowed to negotiate a peace treaty to replace the shaky truce agreement that has left the peninsula divided since the Korean War.
Each evening at 1830 UTC, DW's editors send out a selection of the day's hard news and quality feature journalism. You can sign up to receive it directly here.
dm/kms (AP, Reuters, dpa, AFP)