The Organization of American States (OAS) negotiated feverishly into the early morning hours in Washington, desperately seeking consensus for a resolution on Nicaragua. The measure called for a peace plan, respect for human rights and early elections. It declared that the government in Managua was responsible for the unrest there and demanded it meet the OAS ultimatum.
Those events are not a description of what happened this week, but rather from June 24, 1979. One month after the OAS resolution passed, Nicaraguan President Anastasio Somoza fled to Miami — with money from government coffers. A five-member Sandinista junta assumed power, with a certain Daniel Ortega among its leaders.
A similar resolution decades on
Almost 40 years later, the OAS passed a strikingly similar resolution on Nicaragua. So similar, in fact, that one might assume the 1979 resolution served as a template, with only the names having been changed. In the vote, 21 member states condemned repression and human rights violations in Nicaragua; with only Nicaragua, St. Vincent and the Grenadines and Venezuela voting against the measure. At the same time, member states demanded that President Daniel Ortega stop the violence gripping the country and disarm paramilitary groups. They also called for him to join national peace talks and hold early and free elections.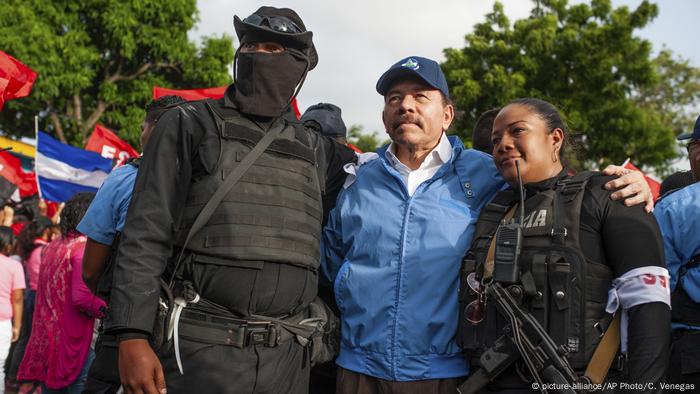 Ortega has drawn international condemnation for his government's harsh response to the protests in Nicaragua
This week, European Union Foreign Minister Federica Mogherini made similar demands. Does this mean Ortega is running out of time, or will OAS and EU calls fizzle out, as they have in Venezuela?
OAS more likely to be a mediator than the EU
"Ortega is playing to win, it's all or nothing for him," said Günter Maihold of the German Institute for International and Security Affairs. "So far he hasn't given an inch. If he makes concessions his rule will crumble."
Read more: Notorious Nicaragua jail holds new generation of political prisoners
Maihold does not expect international pressure will have any effect on Ortega, and believes the government in Managua will only accept the OAS as a mediator.
"It is the only participant that Ortega has been willing to deal with so far, even though he has in fact ignored its proposals," he said, adding that if there is to be an international solution, then it will have to come from the OAS, with whom Ortega has at least talked with in the past.
And what about the authorities in Europe? "The EU is too far away," Maihold said. "Moreover, its relations with Nicaragua are too poor for Brussels to be considered a reliable mediator for Managua."
The EU has increasingly taken a confrontational course with Nicaragua, he explained, especially in its policies of either drastically cutting or even shutting down developmental cooperation with the country.
Read more: Will Nicaragua be the next Venezuela?
Speaking at a press conference after a meeting of foreign ministers from the EU and the Community of Latin American and Caribbean States (CELAC) in Brussels, Mogherini told reporters she had sent a letter to Nicaraguan Foreign Minister Denis Moncada asking for a quick response. It is likely that the EU foreign minister will have to do some waiting before hearing from her counterpart in Managua.
Like Venezuela, Nicaragua faces threat of isolation
"Ortega wants to stay in power until the end of 2021 and he is creating conditions for doing so in Masaya," said Maihold. The city of Masaya is thought to be an opposition stronghold but is now back under government control. Nevertheless, Maihold believes that it is right for the international community to maintain pressure.
Human rights abuses by security forces and paramilitary groups cannot go unpunished and the country's bishops must be given full support in their mediation mission, but Maihold said the most important aspect is to make sure the government in Managua recognizes "that its policies will lead to international isolation as with Venezuela and that they will get no support from the global community."
Incidentally, in late June of 1979, Nicaraguan dictator Somoza briskly rebuked the OAS resolution, saying it, "clearly represents an attempt to violate Nicaragua's sovereignty in trying to topple my liberal government." One will have to wait with anticipation for Ortega's answer in 2018.