The European Parliament adopted a resolution on Thursday urging member states to provide "immediate protection-oriented responses" to Venezuelan migrants in the EU, including humanitarian visas, special stay arrangements and other such regional programs. Lawmakers also demanded that the Venezuelan government allow the entry of humanitarian aid to the beleaguered nation.
Spanish parliamentarian Beatriz Becerra was part of a delegation of lawmakers that visited Venezuela's border with Colombia to observe the situation firsthand. Becerra, vice president of the human rights commission in the European Parliament, spoke with DW about the delegation's assessment of Venezuela's crisis and the new EU resolution on Venezuelan migration.
"People who are crossing the Venezuelan border into Colombia, and to a lesser extent Brazil, are doing so because they lack the most basic needs," she told DW.
The suffering of those fleeing, Becerra observed, was proof that "what is happening in Venezuela is not the product of a natural disaster, a drought or a hurricane; it is the product of a political decision."
Support from neighboring countries
Agustin Diaz de Mera, EU lawmaker and head of the delegation to the Venezuelan border, highlighted Colombia's exemplary response. The country has provided migrants with aid and residency permits for those who plan to stay. "But they cannot do it alone," Diaz de Mera said.
According to the International Organization for Migration (IOM), the number of Venezuelans abroad has climbed from 437,000 in 2005 to 1.6 million in 2017. Just between 2015 and 2017, some 945,000 people fled Venezuela.
An estimated 820,000 Venezuelans have arrived in Colombia, which has bore the brunt of the influx. But Peru has also seen its population of Venezuelans rise to 400,000, while 11,581 are currently living in Brazil.
Read more: Brazil braced for influx of Venezuelan refugees
Venezuelans in Europe
Venezuelans represented the only asylum-seeking applications from Latin America in Europe between 2016 and 2017.
"Spain is the only EU country that last year saw a rise in new asylum-seeker claims. These came from Venezuelan citizens," Becerra said.
The IOM estimates that 200,000 people of Venezuelan origin are registered in Spain. Some 61.3 percent of these migrants already held Spanish nationality, as descendants of Spaniards who once migrated to Venezuela several decades ago.
There has also been a flow of Venezuelans headed for Italy and Portugal, many of which the IOM says already have EU citizenship due to the same hereditary ties.
Read more: Can Germany be a new home for young Venezuelans?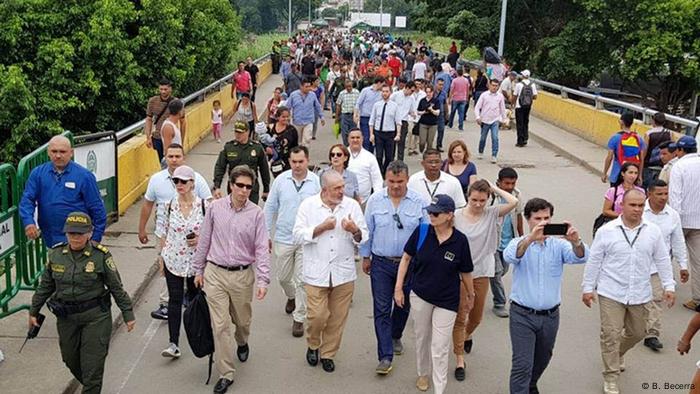 EU lawmakers visited the Venezuelan border on a special delegation trip
European action
For Becerra it is not just about Venezuelans being able to obtain asylum, but also, if it can be granted, that they may obtain residence permits.
"In our resolution, we call on EU countries to employ every possible instrument" for them to live adequately within the continent, she said.
Becerra explained those Venezuelans currently fleeing to nearby islands in particular, such as Aruba and Curacao, are experiencing "an extremely difficult situation from the human rights perspective."
She noted that the UN refugee agency, Amnesty International and Human Rights Watch have reported on the deplorable situation of Venezuelan migrants there, where many of them are being held in detention camps.
"Our governments have the responsibility to deal with these people's situation in a timely matter," Becerra said.
Migration a sensitive EU topic
When asked about whether it is realistic to give Venezuelans special treatment in the midst of the ongoing influx of refugees in Europe, Becerra pointed out that the concept of a migration crisis is simply not true.
"Yes, we do have the challenge of adequately managing migration flows, but the numbers do not tell us that there is a crisis," Becerra said. "The number of displaced people on Europe's border compared to those displaced in Venezuela's borders is incomparable."
On the root of the problem, which the EU considers to be the government of President Nicolas Maduro, the European Parliament resolution echoes the Organization of American States in urging the International Court of Justice to investigate Venezuela for crimes against humanity.
"What is most grave and inhumane is to have produced this hunger crisis and high emergency situation and then not allow for humanitarian aid to assist it," Becerra said.
Every evening at 1830 UTC, DW editors send out a selection of the day's hard news and quality feature journalism. You can sign up to receive it directly here.